Need for RCS Business Messaging/The Rise of RCS Business Messaging in A2P market
This is an age where an average person receives hundreds of emails and text messages per day. Gone are the days where readers continued engaging with monotonous and static text content. While the average open rate of an SMS and a push notifications is 90%, bringing in a communication channel that does everything that a customer needs is the need of the hour. Rich Communication Service(RCS) is definitely considered to be a trusted medium to enrich our lives in terms of digital communication.
RCS Business Messaging is for enterprises to build a network of happy customers. It is a communication protocol between network operators, OEMs, and other messaging partners for A2P rich messaging helping brands to deliver the advanced user experience.
RCS Business Messaging- a smarter communication channel?
Owing to the technological challenges and rigidness involved in developing a medium as efficient yet simple as that of an SMS, RCS began its journey at a steady pace. While SMS has been predominantly used as a channel of communication by brands and businesses, it still lacked the tinge of interactivity, personalised experience, and many more advanced functionalities that the users demand today.
Considering the need of having a two-way communication process, RCS Business Messaging is the answer that addresses all the limitations of traditional one-way messaging.
A bucket of features and more
RCS Business Messaging does not restrict its usability by being just a messaging channel; using its features and helping brands to design their channels in such a way that leads to increased user engagement and reachability. It comes along with a bucket full of benefits ranging from capability to send images, videos, rich cards, suggestive replies, and dynamic chatbots.
Why opt-in for a smarter and a richer communication platform?
SMS, one of the most convenient channels of communication, proffers us with an array of benefits. Inspite of its convenient usage, 96% of people receive spam messages everyday based on the survey conducted by LocalCircles. Even though it has been a dominant way of communication, it certainly needs an upgrade in terms of guaranteed reliability, security, and versatility.
Apart from that, SMS has two major drawbacks which need to be addressed:
Length
Although claimed to be the easiest and effective way of reaching out to people, SMS messages restrict their users with a character limit of 160. While each letter, symbol, number, special character, and space constitutes to the length of the message, adhering to the limit of 160 characters is not always possible. RCS Business Messaging proffers users with unlimited characters which in turn gives them the freedom to send messages as per their need.
Rich Media Content
One of the major drawbacks of SMS messaging is in its inability to have rich media content. The fact that an SMS doesn't support transmitting videos, pictures, animation, location, and other multimedia files make it less usable in terms of effective communication.
The dawn of Rich Communication Medium
RCS Business Messaging, an evolution in the world of mobile messaging, is a way to improve the way in which people and businesses communicate with each other. It provides us with an opportunity to elevate our engagement with customers by using the power and dynamics of RCS Business Messaging.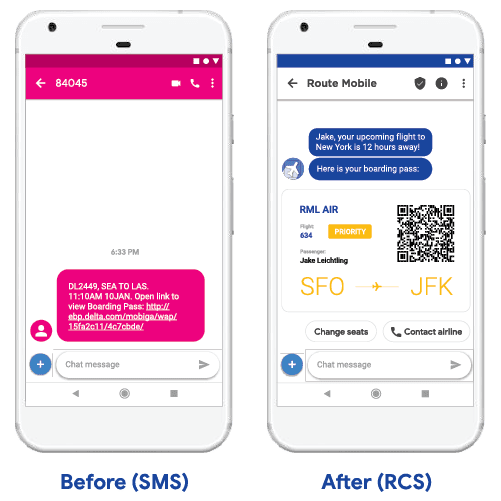 RCS Business Messaging is designed to provide brands with rich features as follows:
Branded and verified business messaging
Payments
High volume support with rich card carousels in a single message
Option to send images, audios, videos within the message.
Instant file transfer
Instant location sharing
The list of features that RCS Business Messaging provides doesn't end here. It also offers brands with functions like deep-linking used for campaigns. Besides that, it has the features of read receipts, delivery receipts, and intelligent customization of information for customers.
RCS Business Messaging, a universal communication platform, finds its usability in a wide range of industries ranging from retail, tours and travels, hospitality, entertainment, healthcare and many more. Extremely flexible in nature, it can be moulded as per the requirement of each of these industries thereby making the entire communication process a fulfilling experience.
Highly customizable, dependable, conversational, and trusted, RCS Business Messaging is a power pack of features that proposes a chance to serve its users with innovative and engrossing user experience. Tailored for a broad spectrum of businesses and verticals, RCS Business Messaging is the present and the future of communicating across geographies of the world.
Using RCS Business Messaging, customers, as well as existing users, will be able to use the platform to carry out the same activities in a lesser amount of time and effort. All in all, RCS Business Messaging, gives users a personalized experience with quick responses, secured communication, and effective messaging.