When it comes to marketing your business successfully, WhatsApp Business is widely known as an easy way with your prospects, leads, and existing customers.
In addition to being easy, it also yields excellent results. Nowadays, any eCommerce brand can launch a WhatsApp campaign with the help of the WhatsApp Business Platform solution. The best part? It happens within a few hours of sending the message.
Let's dive deeper into how you can do the same. This post will discuss WhatsApp marketing, why you need it, six steps to get you started, and some examples to give you ideas. In the end, there's a short recommendation for implementing what you've learned.
What is WhatsApp Marketing?
In WhatsApp marketing, you send messages to people who have agreed to receive them from your brand, informing them about new updates or about a sale or a new product that you're introducing in order to increase revenue.
When businesses want to send bulk promotional messages on WhatsApp, they use two different approaches: the WhatsApp Business App and its API solution.
As part of a marketing campaign by an e-commerce company, here is an example of a marketing message received on WhatsApp:
Also Read: How to Bulletproof your CX with Whatsapp Business API?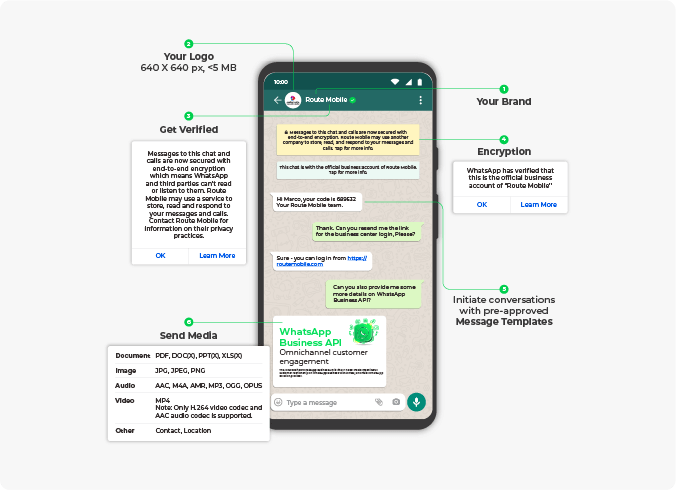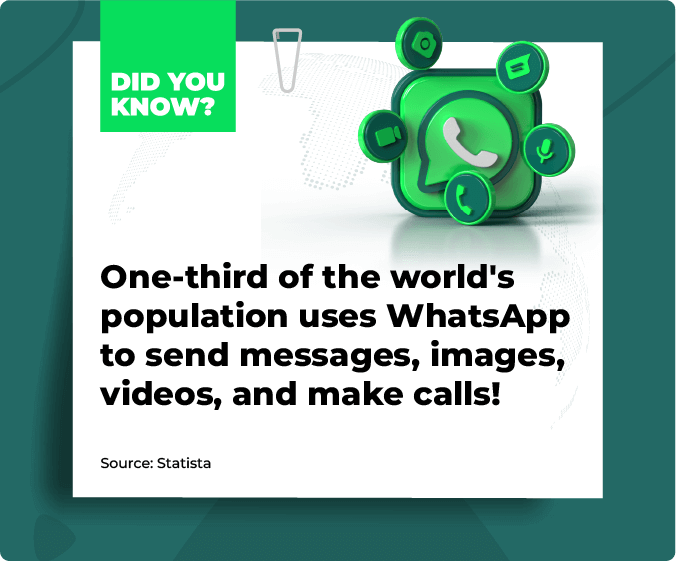 No more spam folders
Your carefully crafted email message goes to waste in the spam folder. But with WhatsApp's design emphasizes simplicity, so there is no spam folder on WhatsApp. The fact that there is no spam folder is a relief because it relieves you of this major trouble. You can focus on delivering your message with no algorithm checks to constrain what you say and how you say it.
In any case, you shouldn't take advantage of the opportunity to bombard anyone with marketing messages.
Considering Whatsapp Is Widely Used And Popular, Conversions Are Higher
Some of the brands that are using WhatsApp marketing are enumerated below: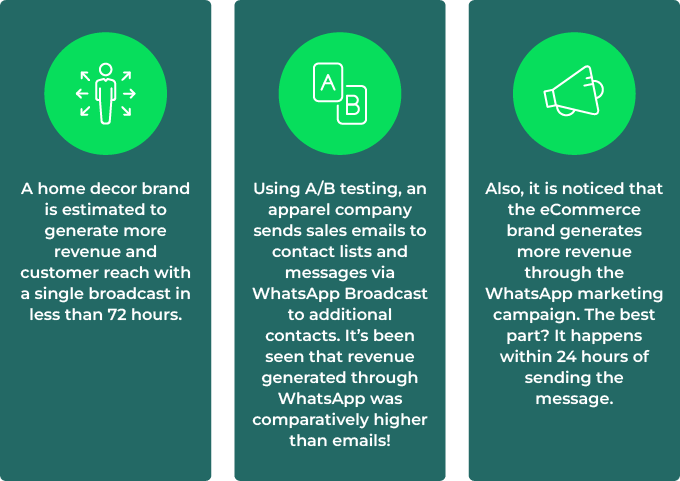 These findings did not surprise us because WhatsApp is a popular medium with high engagement when compared to any other means. It is intended to be simple, with few features. It is simple to use and suitable for people of all ages.
Know Why Businesses Need WhatsApp Marketing
Businesses should use prime WhatsApp Marketing Campaign Strategy in their marketing campaigns because of its power, interactive nature, great convenience, personal touch, and effective applicability.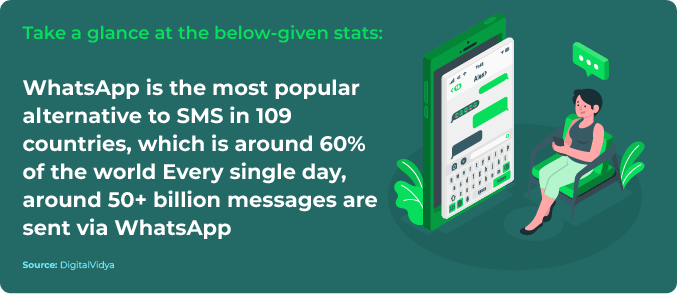 WhatsApp, like Social Media Channels, has become a well-known messaging application. It is the most popular messaging app in the world, which is why businesses need to run a WhatsApp Marketing Campaign.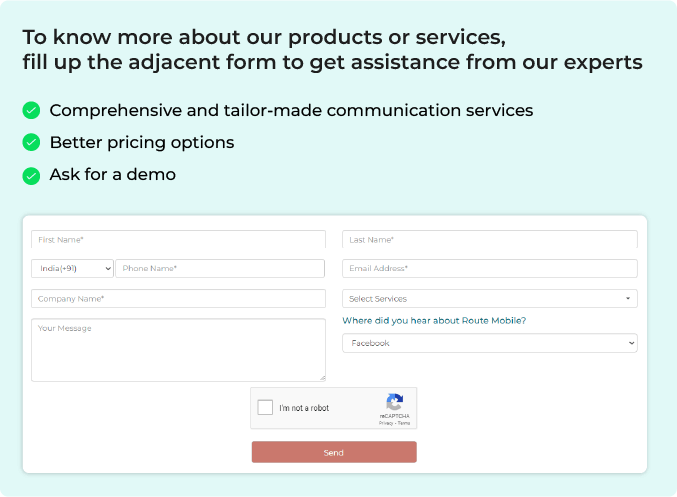 Six Points Why You Need WhatsApp Marketing Campaign Strategy
The main reason to integrate WhatsApp Marketing Campaign Strategy into your business strategy is that a large number of your clients are already using it and may be targeted and converted using WhatsApp marketing.
According to Nielsen's Facebook Messaging Survey, more than 67% of mobile users prefer to communicate with businesses via chat, and roughly 53% prefer to shop with a business they can message directly.
If you want to reach out to young people, WhatsApp will be your best chance, as 42% of smartphone owners aged 18 to 29 prefer messaging via WhatsApp to 19% of smartphone owners aged 50 or older.
More than 95% of mobile messages are opened and read with WhatsApp Marketing Campaign. This ensures great engagement rates
90% of WhatsApp messages are opened within 3 seconds of receiving them.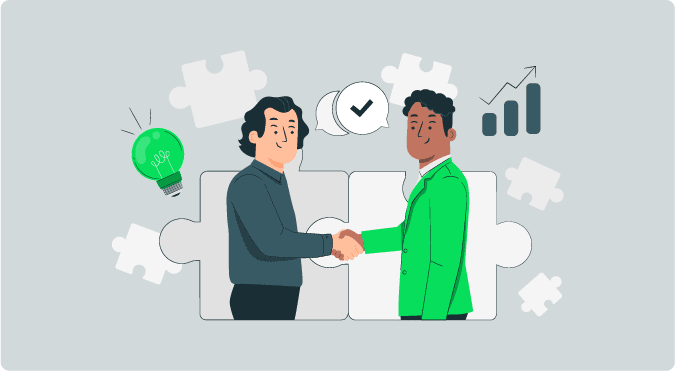 Reasons to partner with RML on WhatsApp?
Route Mobile's WhatsApp Business Solution (WBS) helps you to seamlessly improve communication with customers on a global level. With the WhatsApp Business API, drive your customer engagement and reach a massive audience like never before! Get a significant advantage over your competitors by responding to your customers in real-time in a convenient and professional manner. Now you can effortlessly migrate your Enterprise WhatsApp Business account to the Route Mobile platform to give the best customer experience that they deserve. You can effortlessly manage all of your leads, effectively respond to your existing customers, and drive conversions to increase revenue for your business with the WhatsApp Business Solution.
Migrate your existing WhatsApp API solution provider to Route Mobile. For an effortless migration of your Enterprise WhatsApp Business Account to the Route Mobile platform, simply enter your details in the form below and we will get back to you.