With over 2 billion monthly active users—roughly one-fourth of the world's population—Instagram is one of the most widely used social media platforms and a fantastic marketing tool for building your brand. In just over a decade, Instagram has evolved from a photo-sharing app to a hotbed of commercial activity. In Instagram Live broadcasts, businesses can host fundraisers. They can also open stores from their profiles and allow customers to make reservations. The software often receives updates with new tools, features, and advice for entrepreneurs.
But if managing an Instagram business account is simply one component of your career, it might be a lot to keep track of. Therefore, everything has been gathered here.
So let's dig in.
Source: CNBC Reports
Instagram for business: 5 steps to success
Instagram is a platform for visual social networking with a focus on photos and videos. Without a visual product, this may seem difficult for marketers, but even B2B companies and service-based brands can profit from this network.
If you stick to our advice, you ought to be able to quickly increase your audience and keep your following interested.

Instagram accounts can be classified as personal, creator, or business accounts. The two categories of professional accounts available are creator and business accounts. While brands should create a "corporate profile," influencers and content creators should use the "creator account."
When you have an Instagram business profile, you can access essential features like the following:
Fill in more parts of your profile.
Instagram statistics and insights
Instagram promotion
Being able to link up with a scheduling app
Instagram shops and posting with product tags
Every feature has the potential to maximize the impact of your company's Instagram presence.

As I mentioned, there are more sections available in your business profile, so take advantage of them. This will give potential followers plenty of information upfront, giving them a clear idea of what your business does and why they should follow you.
Optimize your profile by using the following fields:
Use your company logo as your profile photo for optimum results so that people can quickly recognize your brand.

Name:

– (Mark as H5 Heading Tag) Use the same name for your company that appears on any other social media profiles for your brand.
Your company name should also be your username. Keep in mind that there can be no spaces in your username.

Pronouns:

– (Mark as H5 Heading Tag) Although they are included on every profile, you should only use them if you serve as the public face of your company.

Website:

– (Mark as H5 Heading Tag) On your Instagram page, this will be the only clickable URL. Most companies either link to their most recent promotional page or use their website. Additionally, you can link to several pages using the bio tool's link feature.
You will capture the attention of other Instagram users with your Instagram bio. – (Mark as H5 Heading Tag) Describe your business, promote your website, or slap your brand's slogan here (or all of the above).

Page:

– (Mark as H5 Heading Tag) Link your Facebook business page to your Instagram business profile.
Choose the category that most accurately reflects the sector or range of goods and services offered by your brand.

Contact choices:

– (Mark as H5 Heading Tag) Include links to all of your contact information, including your phone number, email address, and physical address.
Add an action button, such as "Order food," "Book now," "Reserve," or "Get a quote," to your Instagram profile.
Highlights from your Instagram stories: – (Mark as H5 Heading Tag) Add these to your profile and group them according to the kinds of tales your business usually produces.
Also Read: Instagram for Business : Everything you should know

Every marketing platform where you have a presence needs its own unique strategy, and Instagram is no exception. Due to Instagram's emphasis on visual content, a significant portion of your strategy must be on locating or producing the photos you publish.
There are a few other things to keep in mind, though.
Decide who your target market is
Make sure your target audience will be interested in the material you create first. But in order to do that, you must first identify your target market. Look at your current customer persona, then look for profiles on Instagram that fit that persona. Observe them and evaluate the information they share. Examine the brands they follow and the sharing of material they make.
Utilize those evaluations to inform your personal Instagram content strategy after that. Keep track of which of your posts, stories, or reels have the most views so you can start producing more content that is similar.
Establish objectives and KPIs
What do you want Instagram to do for you? The following may represent the most likely goals
Sales
Website Visits
Engagement
Followers
User-created material
Influencer collaborations
You can easily complete all of the aforementioned tasks, but you must change your Instagram strategy for each one.
For instance, if your objective is to sell using social media, you should create an Instagram shop and tag your products in all of your photos. If increasing website traffic is your aim, use the link sticker in your Instagram stories and include a link on your bio page with several links to your website, blog posts, and sales pages.
Lay out your goals and KPIs, then create a strategy that satisfies them.
Monitor your metrics and performance
You have access to built-in insights, data, and analytics with your Instagram business account. Use this to your advantage to monitor the effectiveness of your strategy. Look at your most popular posts, the level of interaction with each one, information about your followers, and more.
Calendar your content and schedule your publications.
Choosing the types of material you'll be producing, creating a social media content calendar, and starting to schedule your posts are the final steps in developing an Instagram strategy.

We touched on the material briefly, but let's go into more detail because Instagram offers several chances for providing new content to your audience. For the best outcomes, you'll also want to be familiar with Instagram's best practices.
Test out the latest Instagram features.
It shouldn't be shocking that Instagram keeps adding new features. It's a good idea to test each one to determine which is most popular with your followers in order to make the most of the platform, whether it's Instagram Reels, link stickers in stories, or something else.
Discover the best apps and tools for editing or creating Instagram posts
You may use a variety of Instagram features to help you produce even more beautiful content. Some are good for making branded graphics, while others are ideal for photo editing.
Consider the following tools for Instagram posts:
Canva
Visme
Snapseed
VSCO
Try out a few different apps to determine which ones your staff will find most convenient to use.
Creating captivating Instagram captions
Writing an effective Instagram caption that encourages your audience to interact with your post, follow you, and make a purchase takes skill. Here is some tried-and-true advice:
Be succinct and to the point. It doesn't always have to be 2,200 characters just because it can.
Increase the likelihood that viewers will comment by posing a question or sharing a story.
Emojis or social media jargon should be used.
Use hashtags to make your posts more discoverable on Instagram.
Here are 50+ Instagram caption ideas to help you find additional inspiration.
Discover the different Instagram post types
Make sure you're using the many options Instagram offers its users for content creation and sharing. Users may find it monotonous to visit your Instagram posts and often view the same kind of content.
Instead, make a change. Share information such as articles, films, reels, guides, branded visuals, live video broadcasts, and more. Each unique piece of content should be added to your content schedule so you can plan ahead and maintain a healthy mix.
Shoppable posts can boost sales
Through shoppable posts, e-commerce firms can maximize their Instagram engagement. Make it simpler than ever for customers to make purchases by setting up your Instagram store, tagging products in your Instagram pictures, and more.
Your followers can tap on a product they see in one of your posts, click on the product listing in your Instagram shop, and then make a purchase without ever leaving the app by using shoppable posts.

The last step is to start increasing your Instagram following. Even though your bottom line is more concerned with engagement and conversions than follower count, it's still a good idea to work on increasing your follower count. Both social proof and reaching a larger audience on the platform may benefit from it.
You can increase your Instagram following by following these strategies:
Comment on Instagram posts from users that appear to be your target market.
In order for people searching for certain hashtags to locate your social post.
Share a wide variety of material types and post frequently.
Work together with influencers to reach their audiences.
Through your website and other social media channels, cross-promote your Instagram account.
Keep an eye out for the stuff that generates the most interest and produces more of it.
Start making Start using Instagram advertising for brand awareness
Frequently asked questions about Instagram for businesses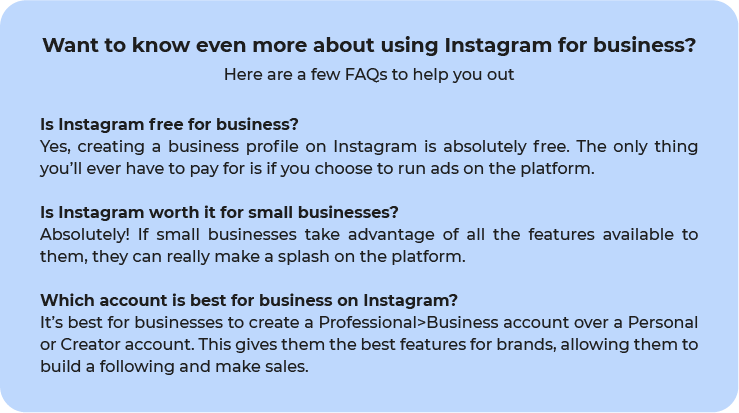 Use Instagram For Business Today
Don't worry if your Instagram company account hasn't yet been launched. Because of its engaged, constantly expanding user base, Instagram has established itself as a mainstay of social marketing rather than a passing fad. There is still room on the platform for businesses with a compelling visual narrative to share and the ambition to build a community of devoted fans and clients.