If you are a business owner or marketer, you know how important it is to communicate effectively with your customers. You want to reach them on the channels they prefer, provide them with relevant and timely information, and create a positive and lasting impression. But how can you achieve these goals in a crowded and competitive market?
One of the most promising solutions is RCS Business Messaging, a new standard for mobile messaging that enhances the capabilities of SMS and MMS. RCS stands for Rich Communication Services, and it allows you to send rich media content, interactive buttons, suggested replies, verified sender IDs, and more to your customers' native messaging app. Unlike SMS and MMS, which rely on cellular networks, RCS uses data or Wi-Fi connections, making it more reliable and cost-effective.
RCS Business Messaging is not just a technology upgrade; it is a game-changer for customer engagement. According to a report by IOT Global Network, RCS will reach 3.9 billion users by 2025, making it the largest messaging platform in the world. Moreover, RCS has an open rate of 98%, compared to 20% for email and 10% for push notifications. And with an average response time of 60 seconds, RCS is much faster than other channels.
Benefits of RCS Business Messaging
But what can you do with RCS Business Messaging? Here are some of the benefits that make it a powerful tool for your business:
Establish Brand Identity
Businesses can use their own logo, color scheme, and verified sender ID to establish trust and recognition with their customers. Customers can easily identify the sender and avoid spam or phishing messages.
Interactive Elements
Businesses can use interactive elements such as buttons, carousels, calendars, and forms to provide a conversational and seamless user experience. Customers can perform actions such as booking appointments, making payments, filling surveys, or browsing products within the message thread.
Improved Campaign Performance
Businesses can measure the performance and effectiveness of their RCS Business Messaging campaigns with metrics such as delivery rate, open rate, click-through rate, conversion rate, and revenue. Customers can provide feedback and ratings to help businesses improve their service quality.
Increased Conversions
RCS Business Messaging can help businesses drive more conversions by providing relevant and personalized offers, coupons, discounts, and loyalty programs to their customers. For example, Fintonic, a personal finance app, achieved 2.5 times more conversions than concurrent SMS campaigns by using RCS Business Messaging.
Enhanced Engagement
RCS Business Messaging can help businesses increase customer engagement by sending rich and interactive messages that capture their attention and elicit responses. For example, Orange, a telecom operator, doubled RCS active users during the 2019 Africa Cup of Nations by sending live match updates and quizzes with RCS Business Messaging.
Improved Open Rate
RCS Business Messaging can help businesses improve their message open rate by using verified sender IDs, logos, colors, and branding elements that increase trust and recognition among customers. For example, Bodemer Auto, a car dealership group, delivered a 17-fold improvement in clickthrough rate versus a comparable SMS campaign by using RCS Business Messaging.
Use-Cases of RCS Business Messaging
Rich Communication Services (RCS) business messaging offers innovative communication solutions for various industries. Here are some notable use-cases:

Retail and E-Commerce

Personalized Product Recommendations: Send interactive messages with product images, descriptions, and direct purchase options.

Order Status and Tracking: Provide real-time updates on order processing, shipping, and delivery.

Flash Sales and Promotions: Engage customers with rich media messages for limited-time offers and promotions.

Feedback and Surveys: Collect customer feedback through interactive surveys and feedback forms.

Travel and Hospitality

Booking Confirmations: Send interactive booking confirmations with travel details, itinerary, and options for upgrades.

Travel Updates: Provide real-time flight, hotel, or rental car updates and changes.

Local Recommendations: Share location-based suggestions for dining, sightseeing, and activities.

Check-In and Check-Out Reminders: Send reminders and links for hassle-free check-in and check-out.

Healthcare

Appointment Reminders: Send interactive reminders for upcoming medical appointments with options to confirm or reschedule.

Medication Reminders: Provide medication schedules and reminders for patients' adherence.

Telemedicine Links: Share video call links for remote consultations with healthcare professionals.

Health Tips and Insights: Disseminate health tips, wellness advice, and preventive care information.

Financial Services

Account Alerts: Send real-time notifications for account balances, transactions, and fraudulent activity.

Two-Factor Authentication (2FA): Deliver secure verification codes for login and transaction authorization.

Payment Reminders: Send timely reminders for bill payments, credit card dues, and upcoming payments.

Investment Updates: Share investment portfolio updates, market insights, and personalized recommendations.Investment Updates: Share investment portfolio updates, market insights, and personalized recommendations.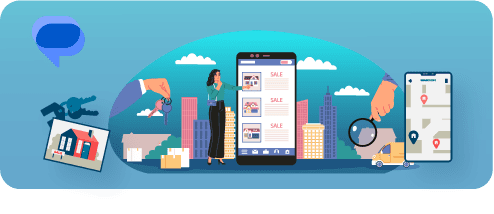 Real Estate

Property Listings: Share rich media messages with property images, videos, and virtual tours

Open House Invitations: Send interactive invitations for open house events with event details and RSVP options.

Lease Renewal Notices: Send reminders for lease renewals, rental due dates, and document submissions.
Conclusion
RCS Business Messaging with rich media offers businesses a powerful way to engage with customers. By leveraging interactive and visually appealing content, businesses can enhance the user experience, increase brand visibility, improve customer engagement, and drive higher conversion rates. With its personalized approach and detailed analytics, RCS Business Messaging proves to be a valuable tool for businesses across various industries, providing them with a competitive edge in customer communication strategies. If you want to learn more about how Route Mobile can help your business grow and connect with your customers in powerful new ways, contact our experts today.