"Merry Christmas", was the first-ever text message sent on December 3, 1992. Since then, for over three decades now, SMS has been one of the most essential channels in the world of communication. Once a far-fetched vision, mobile phones have evolved rapidly. Today, people carry their whole world in their smart devices but SMS evolved as much as it could.
While the communications landscape has shown remarkable transformation, enterprises still prefer to engage with their customers over an SMS as it is the most reliable platform for A2P (Applications-to-Person) communications today. The role of SMS in enterprise communications has seen considerable growth. Particularly for transactional messaging – debit/credit messages, OTP, and two-factor authentication, enterprises rely on safe and secured text messages.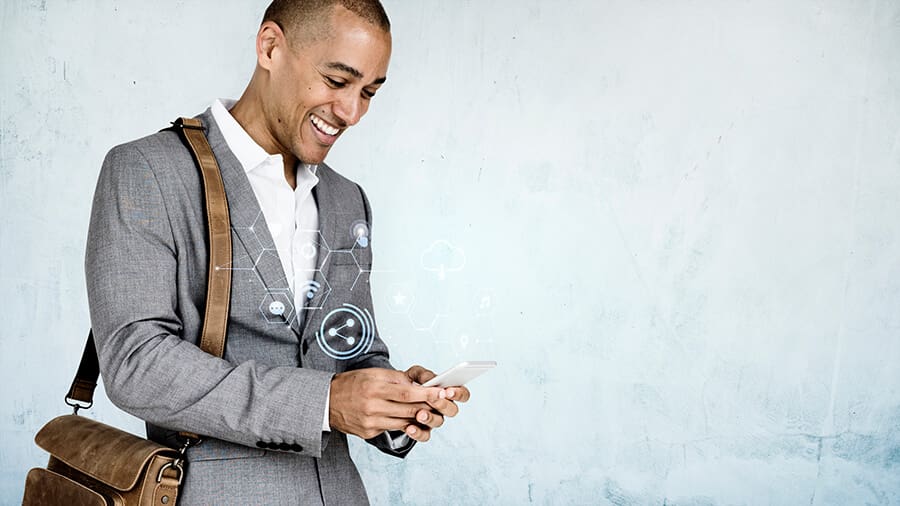 Meanwhile, on the other side of the coin, consumers today are increasingly dependent on OTT messaging platforms like chat applications and messengers. Supported by images, videos, group chat, emojis, and more, these platforms deliver an enhanced experience to customer communication.
For enterprises and brands, SMS needs to step up and create a rich two-way communication to engage better with customers. Or it might lose its value in the long run as customers expect an upgraded experience.
RCS Business Messaging (RBM): Switch to Next-Gen Messaging
Looking at the changing consumer interests, Enterprise Messaging got its new avatar when Google rolled out Rich Communication Services (RCS) as a fundamental function of Android phones. A communication protocol between smartphones and mobile operators, RCS aims to replace the traditional SMS and MMS messaging formats.
Customers are reluctant from calling up call centers when they need answers to simple queries. In such a scenario, imagine if you have an RCS bot interacting with them. According to Google, 72% of customers are more likely to make online purchases if they can interact with brands in real-time. Also, the report states that customers are 35X more likely to read RCS messages than emails.
RCS brings a whole new flavor to texting. It came into existence in the year 2007 and was adopted by the industry trade body for mobile operators worldwide, GSM Association (GSMA) in 2008. The association agreed on having a Universal Profile – a set of protocols to be followed by all mobile operators, phone manufacturers, and software providers while implementing RCS on devices.
Similar to major chat messengers, RCS business messaging supports multi-media. Everything on this rich communication channel is handled by the data network. The future seems brighter as it is intended to be the default messaging functionality on most smartphones.
Blending conventional with contemporary, it gives users a host of rich features to pick from: watch videos, share location, make transactions and payments, redeem offers, and more. Users can explore these functions in an entirely verified environment, which reinstates the customer's trust in brands.
Key Features of RCS Business Messaging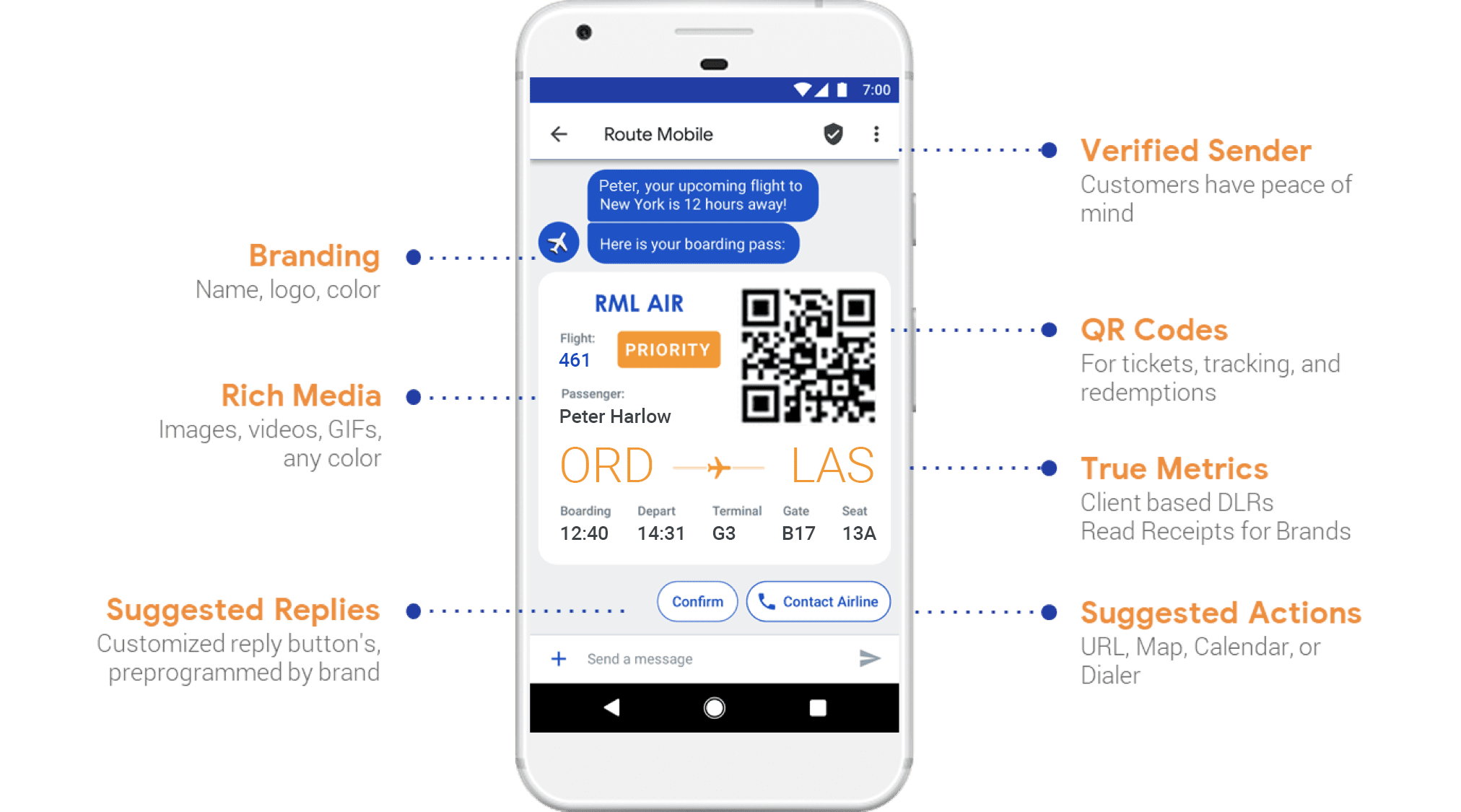 Seamless conversations with customers add up to your brand value. In today's hyper-competitive environment, it is essential to keep your customers hooked through their entire journey. Businesses need a smarter way to connect and RBM is the right approach. So, what sets this channel apart from the rest?
Rich Media Capabilities:
Texts made more interactive! RBM supports videos, emojis, gifs, and chatbot integration making a simple message expressive. Furthermore, with chatbot integration, a simple message is made expressive giving a flavor of natural conversation.
Suggested Replies and Actions:
Responses made easier. Customers can be more responsive using the quick reply templates. Not just that, a set of suggested actions will guide them through the next steps.
True Metrics:
RBM provides insights with client-specific DLRs, read receipts, and message open times to evaluate trends and map out future strategies.
Verified Sender Identity:
Every text has business branding with a name and logo validating the credibility of the message sent giving customers the assurance of a trusted conversation.
Benefits of RCS Business Messaging
Personalized messages from businesses resonate better with customers. RBM redefines texting and communicates through an array of features leading to engaging and easier interactions. It is a substitute to the archaic SMS making your every text an interesting read. RBM offers a comprehensive chat experience to its customers. Following are some of the benefits of using RCS business messaging:
Responsive and Engaging
The most prominent reason why RBM would be preferred over SMS is that it enables rich features communication, which implies more information can be shared with your customers through videos, audio, links, gifs, etc. It has the scope for making video calls so that you don't have to move to third-party software for your virtual meetings. Going forward, brands can use these rich features to communicate delivery notifications, share flight details, and boarding passes, and send fraud alerts.
Secure and Relevant
Messages are sent with a brand logo and verification badge that validates the sender's identity. The client-to-server encryption enhances security and minimizes spam. Grabbing customer's attention at all the right places, RBM helps in driving brand recognition and relevance whenever, wherever. Considering user privacy, RCS would release end-to-end encryption to strengthen security. Taking privacy a notch higher, RCS messages make opt-ins and opt-outs a mandate for enterprises. Seeking end-user consent is a must before sending out any messages.
Flexible and Faster
RCS business messaging comes with a set of suggested replies and actions that enhances the customer decision-making process. With supported chatbot integration and an aim to implement third party payment options, the channel ensures faster transactions.
CPaaS: A key driver for RCS Business Messaging
RBM traffic is on its way to reaching 415 billion messages by 2025, an increase of 2,500%. According to Juniper Research, RCS business messaging and its "substantial growth" is driven by the popularity of CPaaS (Communications-as-a-Platform Services) amongst brands and enterprises.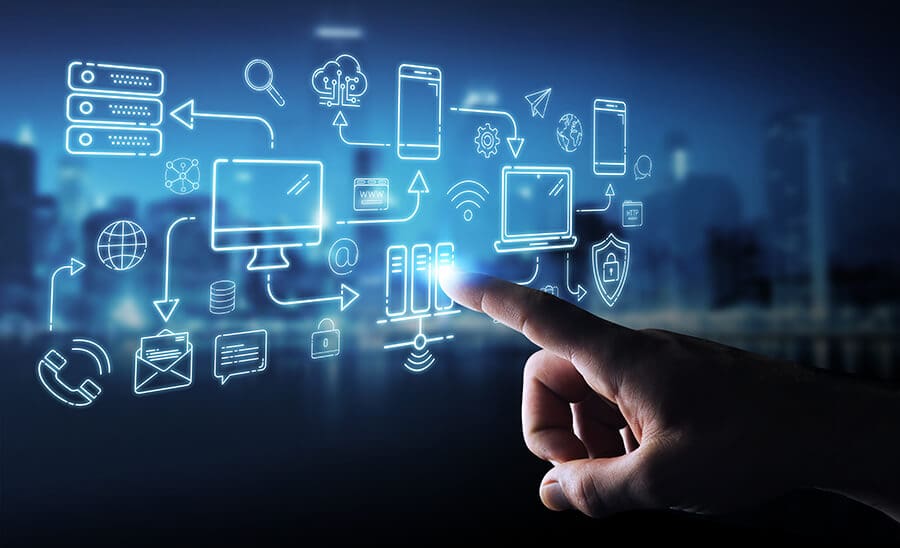 RCS business messaging goes beyond rich, interactive texting. This channel is extensive and supports advanced forms of interaction. Offering a faster and natural way to communicate, senders and receivers can define their personas on this messaging platform. Something where an SMS takes a backseat. Thus, this flexible messaging solution has the potential to serve the following multiple purposes:
A2P Messaging:
With the support of media, businesses can send hyper-personalized notifications and messages to customers. This contributes to strategizing impressive marketing campaigns generating extraordinary results.
Ephemeral Apps:
Make communication contextual with predefined actions and a set of replies. Just like another chat messenger, it provides an interactive experience creating meaningful conversations. Simply integrate our RBM API at any step of the customer journey for an enhanced experience. Say, next time you are looking to order medicines, your medical store might send you some options via messages or you are looking to purchase a loan, your bank manager might share the catalog with your right on this platform. You can just select the right on this platform to make a purchase.
Thus, RCS Business Messaging integrates seamlessly with every communication framework to drive conversions and improve engagement. Without worrying about a complex set-up cost, enterprises & brands can add RBM to their existing communications channel and create a strong omnichannel presence. To take a closer look and gain deeper insights, you can take a look at the recording of our recent webinar:
Thoughtful Thursdays by Route Mobile- Ep 01 with Google India on RCS Business Messaging: 17 Dec 20