The WhatsApp messaging service is generating a lot of business hype right now, and for a legitimate reason. In a short period, WhatsApp has become the preferred messaging service for more than a billion users worldwide.
The potential of WhatsApp Business API
The WhatsApp platform has a tremendous amount of potential, which is why developing companies all across the world are enthusiastic about it. The WhatsApp Business API enables developers to create brand-new experiences that engage customers more effectively and reach more people in more places across the world.
The stage at which the business changed from being a messaging service oriented at consumers to a potential toolkit for marketing that can improve the company opportunities using the WhatsApp Business API.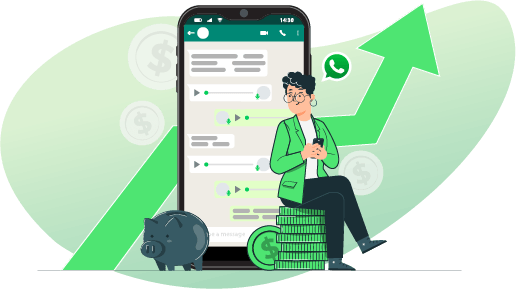 Here are several factors for why modern businesses would have to think about adopting WhatsApp Business for customer communications:
Automate customer interactions with Real-time customer support
With the WhatsApp Business API, businesses may improve and enhance productivity by automating the customer interactions, such as order confirmations and scheduling appointments.
Instead of only responding to one-way messaging from brands, customers want to have real-time conversations with businesses. WhatsApp overcomes this problem by providing a worldwide, dependable two-way messaging service. And by enabling real-time customer support, the WhatsApp Business API allows companies to improve customer engagement.
Sending promotional messages and Sharing product details
Compliance concerns and maintaining conformity with ongoing national regulations are perpetual challenges. The fact that WhatsApp uses end-to-end encryption and considers safeguarding user privacy is one of its most important advantages. With the help of marketing campaigns, businesses can send personalized messages to a significant audience using the WhatsApp Business API.
Also, through the WhatsApp Business API, retail businesses can share updates and product information with customers to increase sales. Along with this, it can also help in getting consumer opinions and feedback which can maximize product development and customer satisfaction.
Providing promotions and discounts and reminding to make payments
Companies may use the WhatsApp Business API to provide promotions and discounts, which can increase revenue and client retention. It can also be helpful for healthcare providers, and service-based organizations may send appointment reminders, which can help in increasing productivity. Using Whatsapp business API can also help financial institutions to remind customers to make payments, minimize late fees, and improve the flow of funds.
Conducting market research and providing delivery updates:
Businesses can conduct market research using the WhatsApp Business API, which helps them collect crucial details about customer preferences. The goal of most companies is to improve brand interactions with consumers. WhatsApp fulfills that promise by giving businesses a private, secure platform to communicate directly with consumers. Reduce customer questions and increase customer satisfaction by using the WhatsApp Business API to provide shipment and delivery updates to customers. It also supports many languages, enabling businesses to offer customer help in the language of their choice.
Businesses that use WhatsApp Business API to improve their customer engagement multichannel framework
Retail
Businesses in the retail sector can use the WhatsApp Business API to enhance the shopping experiences for their consumers, provide order updates, and help address their queries. These features can help to increase customer experience, minimize inquiries, and increase revenue.
Healthcare
Medical professionals can use the WhatsApp Business API to send lab results, remind patients to schedule appointments, and talk with them regarding their health in real time.
Finance
With the WhatsApp Business API, financial institutions may update their customers on their accounts, alert them about potential fraud, and facilitate secure two-factor authentication. These features can enhance security, help accelerate payment processing, and collect necessary insights about customer requirements.
E-commerce
E-commerce companies need their online interactions to be quick and effective beacause they rarely meet with customers in person. E-commerce business may improve their customer's shopping experiences by mapping teir journy, identifying possibilities at each moment, and providing personalized customer assistace through instant messaging networks.
Food and Beverages Industry
With the WhatsApp Business API, the food and beverage sector may send order confirmations, provide offers and discounts, and give real customer support. Businesses can use the WhatsApp Business API to send menu updates, make customized recommendations, and take customer reviews, all of which improve customer satisfaction and help firms bring better offerings.
Conclusion
Businesses nowadays must improve their consumer engagement across a wide range of platforms as we live in a conversational society. Customers will communicate differently according to their preferences. Hence, the multichannel communication approach adopted by a company must make it possible for these myriad touchpoints to interact in various modes.