About the organisation
The Bahrain Financing Company is a Shariah-compliant company. Bahrain Financing Company (BFC) is the leading Money Transfer and Currency Exchange company in the Kingdom of Bahrain. With a retail network of over 40 branches across Bahrain and an extensive agent network of 55,000+ locations in over 40 countries, customers can send money in minutes for cash collection or directly to a bank account through services including EzRemit and MoneyGram. BFC also offers great rates of over 40 currencies commission-free.
Here's how Bahrain Financing Company enhanced their customer engagement with Route Mobiles's SMS for Freshworks.
Challenges Faced
The company faced challenges in customer onboarding and sending real-time notifications to existing and new customers. They were unable to send personalized messages to multiple accounts so they needed a CRM that can schedule SMS campaigns on the go.
Product
Route Mobile SMS for Freshworks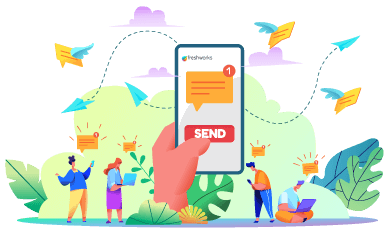 Scripted the success story by
Creating a life cycle for the customer onboarding process through Freshworks CRM workflow.
Building automation journey through Freshworks sales CRM to create a registration process for the customer.
Sending real-time notifications to the existing and new customers.
Outcomes of #RouteItRight methodology
Send Messages to multiple contacts – Send personalized messages triggered across multiple contacts throughout the users' journey
Scheduled SMS campaigns on the go – Combine Route Mobile's A2P SMS with Webhooks & make SMS marketing automation easy for your business
Aided conversion & deliver enhanced CX – Amplify your awareness campaign by sending the right message at the right time