About the organisation
Fly Dubai began its operations in 2009 with an aim to take more people to more places, more often. The airline operates in more than 90 destinations and is constantly adding new cities to our network as they continue to grow. Till now, over 70 million passengers have chosen to flydubai, making us the second-largest carrier, by passenger numbers, operating out of Dubai International. With the vision and support of the Government of Dubai, it has opened up opportunities for travel, tourism, and trade and has enhanced connectivity by increasing accessibility to and from Dubai.
Here's how Fly Dubai improved deliverability and open rates with Route Mobile's SendClean Email services.
Challenges Faced
The existing marketing campaign management framework was not efficient enough for designing relevant offers for different types of customers. The clients expect tailored content that is unique to their interests and the airline wanted to send personalized content to boost engagement. Sometimes the booking confirmations, tickets, changes in flights, and cancellation updates were delayed or not shared on a real-time basis.
Product
SendClean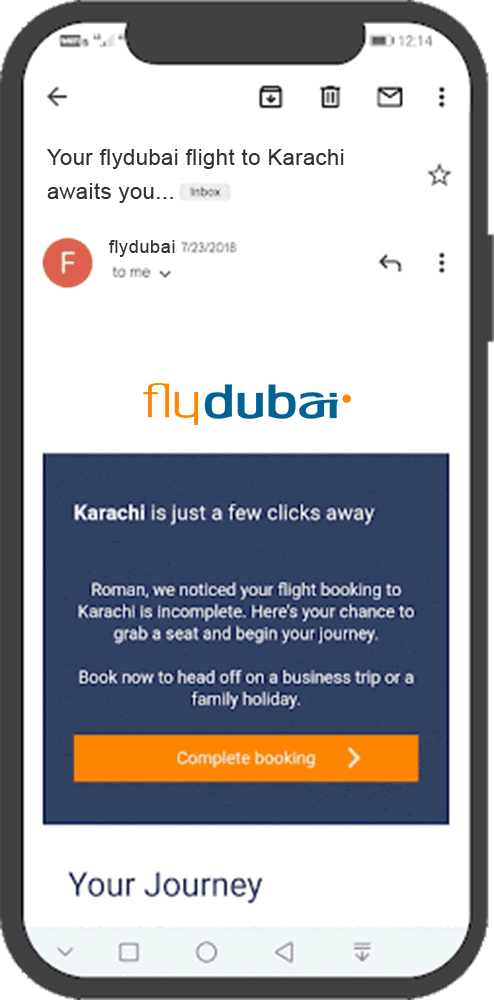 Scripted the success story by
Sending real-time promotional and transactional emails
Overshadowing the roadblock to IP whitelisting using Route Mobile's mail relay servers.
Sharing real-time email alerts on booking confirmations, tickets, timing changes, and cancellation updates.
Outcomes of #RouteItRight methodology
Whitelisted 700+ IPs which helped them in sending emails using RML's mail relay servers
Client sent ~2.2 Mn emails/month for varied use cases like promotion, booking, and other notifications
Volume grew by 22% and 15% in the last 2 months
Clients can share mails through BCC
Enabled better IP management