About the organisation
Coca-Cola UAE is a subsidiary of the Coca-Cola Company that manufactures Coca-Cola or Coke. Coca-Cola has sold many Coke products, which are sold across 200 countries. It serves more than 1.8 billion beverages servings each day across the world.
Ranked No.87 in the 2018 Fortune 500, Coca-Cola is listed as one of the largest United States corporations by total revenue. According to Interbrand, they have been called one of the best global brands of the year 2020 and were ranked as the sixth most valuable brand in the world. Coca-Cola has evolved completely into a beverage company, with more than 1.9 billion drink servings across 200 countries.
There are more than 700,000 individuals employed by Coca-Cola with 225+ bottling partners who ensure that there is consistent delivery of refreshments across the globe. With a gigantic portfolio of 200 brands and thousands of beverages ranging from soft drinks and waters to coffee and teas,
Here's how Coca-Cola UAE boosted their online engagement through automation with Route Mobile's WhatsApp Business Platform.
Challenges Faced
The client wanted to provide a seamless experience for their customers to place an order without needing to visit the website or use the mobile app to place orders.
Product
WhatsApp Business Platform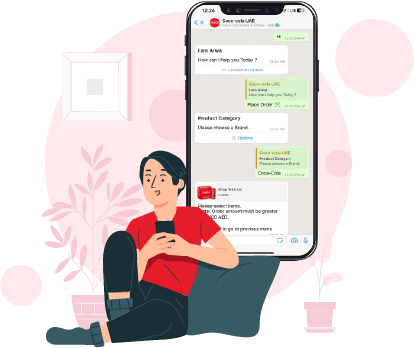 Scripted the success story by
WhatsApp Business Platform significantly improved the buying experience for the customers.
Automated the entire order management with the help of easy-to-browse catalogues
Simplified payment for orders via Coca-Cola's Payment Gateway without leaving the chatbot
Outcomes of #RouteItRight methodology
End-to-end smooth, seamless buying experience for the customers
An enhanced conversational customer experience at every step of the way.
Automate the entire process with the help of a popular messaging platform.
Improved sense of branding by bringing the brand closer to the customer.
A cost-effective solution along with providing customer support over the channel.
Increased efficiencies with quicker ROI than traditional e-commerce methods.