About the organisation
The Bank of Maharashtra is a nationalised bank with a record of 87 years. It has a three-tier organisational set-up consisting of branches, zonal offices, and head offices.
The bank has more than 2000 branches and about 2000 ATMs / Cash Recycler PAN India. In the state of Maharashtra, the bank has 1100+ branches, the largest network of branches of any public sector bank in the state. The Bank has set up specialised branch offices to cater to the needs of SMEs, corporates, agriculturists and importers and exporters. All the branches of the bank are networked under the Core Banking Solution.
The products and services offered by the bank include demand deposits, time deposits, working capital finance, term lending, trade finance, retail loans, credit cards, government business, Bank Assurance business, mutual funds and other services like Demat, ASBA, lockers and merchant banking etc. The bank is known as a front runner in the implementation of technology initiatives.
Here's how the Bank of Maharashtra enhanced their customer engagement with Route Mobile's WhatsApp Business Platform.
Challenges Faced
The client faced challenges with basic banking facilities and information about its products and services for both existing and new age clients. With the growing prominence of social media, they were unable to fulfill their customers' day-to-day banking requirements.
Product
WhatsApp Business Platform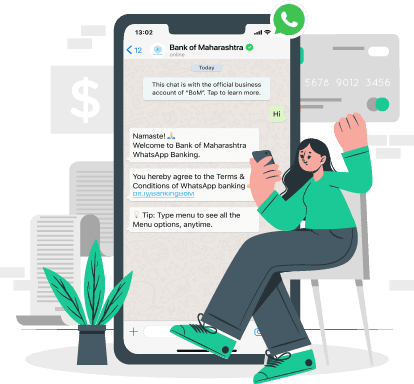 Scripted the success story by
WhatsApp Business Platform workflow, to create a customer onboarding life cycle.
Automating the customer's registration process through the WhatsApp Banking Service.
Ensuring that existing customers and non-customers receive a seamless and personalised experience.
Outcomes of #RouteItRight methodology
Spontaneous and real-time customer service
Seamless banking experience with an increase of 10% customer engagement
Boosted customer convenience and enhanced reputation