Route Mobile's WhatsApp Business Solution (WBS) helps to seamlessly improve communication with customers on a global level. With the WhatsApp Business API, drive your customer engagement and reach a massive audience like never before! Get a significant advantage over your competitors by responding to your customers in real-time in a convenient and professional manner. Now you can effortlessly migrate your Enterprise WhatsApp Business account to the Route Mobile platform to give the best customer experience which they deserve. With the WhatsApp Business Solution, you can easily manage all your leads, respond to your existing customers effectively, and drive conversions to generate greater revenue for your business.
Get Started
Migrate your existing WhatsApp API solution provider to Route Mobile.
For an effortless migration of your Enterprise WhatsApp Business Account to Route Mobile platform, simply enter your details in the form below and we will get back to you soon.
Migrate Now
Features & Benefits of WhatsApp Business API Solution
Faster Response Rate
Intelligent Message Routing
AI-Powered Chatbot
End to end encryption of messages
Encourages Rich Communication
Promotes Brand Identity
Insightful Analytics
Enables Conversational Commerce with Interactive messages and Payments
To know more about Payments on WhatsApp, Click here
Product Trivia
2 Billion
monthly users active across 180 countries, WhatsApp is the most popular OTT messaging platform
Conversational Messaging Formats on the WhatsApp Business Solution
Starting Feb 1, 2022, instead of being charged for notifications sent, businesses will be charged per conversation, which includes all messages delivered within a 24-hour period.
WhatsApp Business Solution API conversations fall into two categories that are priced differently: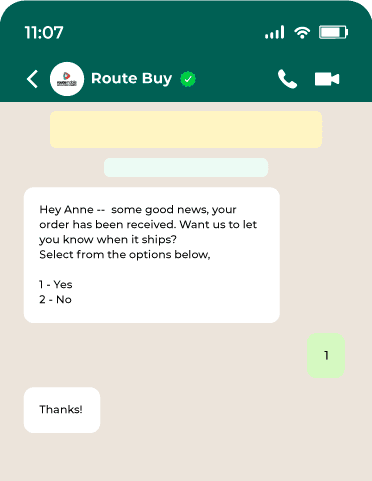 Business Initiated Messages
A Business initiated message starts when a business initiates a message to the user
Needs pre-approved message templates and an Active Opt-in
Send rich communication like text, images, documents, video files & interactive button (list messages & quick reply)
'Non-transactional' messages are now allowed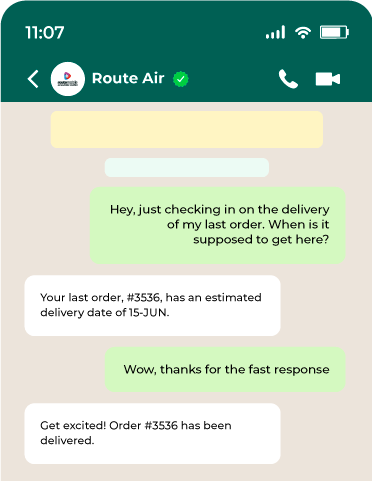 User Initiated Messages
A User initiated message starts when a business reply to a user's message is delivered within the 24 hour window
Send text, images, documents, videos, audio files, locations
No Opt-in and No Pre-approved templates needed
Watch our video on WhatsApp Business Platform