Route Mobile's WhatsApp Business Solution (WBS) helps to seamlessly improve communication with customers on a global level. With the WhatsApp Business API, drive your customer engagement and reach a massive audience like never before! Get a significant advantage over your competitors by responding to your customers in real-time in a convenient and professional manner. Now you can effortlessly migrate your Enterprise WhatsApp Business account to the Route Mobile platform to give the best customer experience which they deserve. With the WhatsApp Business Solution, you can easily manage all your leads, respond to your existing customers effectively, and drive conversions to generate greater revenue for your business.
Get Started
Migrate your existing WhatsApp API solution provider to Route Mobile.
For an effortless migration of your Enterprise WhatsApp Business Account to Route Mobile platform, simply enter your details in the form below and we will get back to you soon.
Migrate Now
Features & Benefits of WhatsApp Business API Solution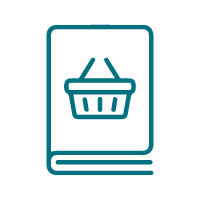 Catalog creation for displaying products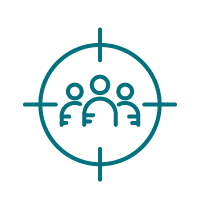 Contact Groups for campaign targeting
AI-Powered Chatbot
Embedded Signup
Encourages Rich Communication
Promotes Brand Identity
Insightful Analytics
Enables Conversational Commerce with Interactive messages and Payments
To know more about Payments on WhatsApp, Click here
Product Trivia
2 Billion
monthly users active across 180 countries, WhatsApp is the most popular OTT messaging platform
Conversational Messaging Categories for WhatsApp Business Platform
From June 1, 2023, business users of WhatsApp Platform will be charged per 24-hour conversation. The rates will vary depending on the categories of the conversation, as illustrated below.
The three categories under Business Initiated Conversations include Utility Conversation, Marketing Conversation, and Authentication.
The fourth category is Service Conversations which are conversations initiated by users.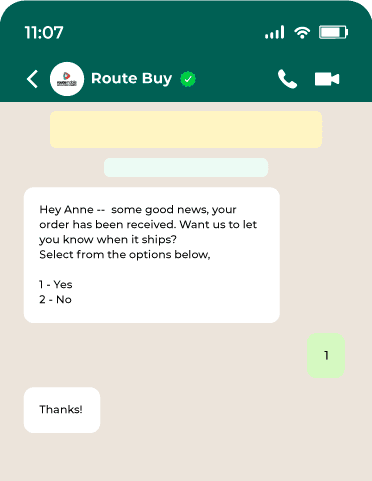 Business Initiated Messages
A Business initiated message starts when a business initiates a message to the user
It needs pre-approved messaging templates (Utility, Authentication, and Marketing) and an active opt-in
Utility templates are used to confirm, suspend, or change a transaction or subscription according to an agreed-upon transaction
Marketing templates include promotions or offers; welcome / closing messages; updates, invitations, or recommendations; or requests for response or completion
Authentication templates enable businesses to authenticate users with one-time passcodes, potentially at multiple steps in the login process
Send rich communication like text, images, documents, video files & interactive buttons (list messages & quick replies) conveniently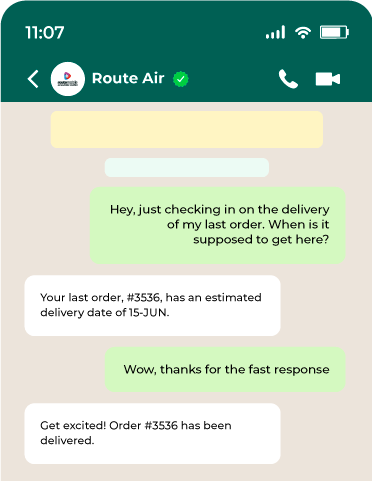 Service Messages
Service message starts when a business responds to a user's message (at no cost) within the 24-hour window
There is no limit on the number of messages a business and a user can exchange in a single 24-hour conversation session
Send text, images, documents, videos, audio files, locations
No Opt-in and No Pre-approved templates needed
Watch our video on WhatsApp Business Platform