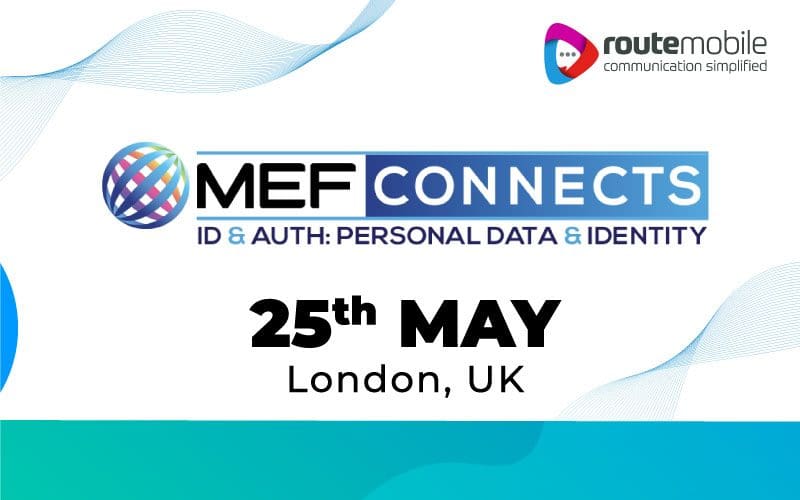 Date & Time:
25th May 2023
Event Name:
MEF Connects ID & Auth: Personal data & identity
Venue :
One Moorgate Place London, Chartered Accountants Hall, 1 Moorgate PI, London EC2R 6EA, United Kingdom
About this event:
MEF Connects is a one-day special hybrid event covered by the MEF Personal Data and Identity Working Group. This event brings together more than fifty global leaders to have essential discussions regarding the birth of organisational identity, individual identity, and personal data management.
David Vigar, Vice President and General Manager of TruSense, will actively participate in a panel discussion on building unique customer journeys. The event will also focus on how to successfully leverage personal data along with individual identity for authenticating individuals and compliance with knowing your customers. Combating and mitigating fraud by serving people and streamlining engagements along every step of the journey is also possible.
The focus behind the event has been to combat and mitigate fraud by serving people and streamlining engagements at every step of the journey. The focus has been to recognise how engagement has changed, particularly regarding organisational identity. Organisational data helps establish greater trust, especially for agents in managing employees, messages, machines and bots.
Why should you attend?
More than 40 global leaders with years of expertise and experience
Understanding groundbreaking concepts in organisational identity, personal identity, verified authority, Open wallets, verified credentials, EU and UK identity regulations, creator and individual empowerment, and phygital age assurance.
Greater participation both in person as well online via live streams.
Join the Shared Notes Experience: A collective shared notes experience
Live illustrator session capturing every single session
Hybrid participation via online streams from people across the world
Networking and reception sessions with power lunches and networking breaks
Interview and share reactions with in-depth thought-leadership
Recorded sessions from registered participants to watch recorded sessions following the events
Legal Entity Identifier (LEI), Discount Code and RapidLEI with Ubisecure for enterprises.
Area of interest:
Personal data, Organisational Identity, Authentication, Mobile Intelligence Services
Meet the team:
David Vigar: Vice President & General Manager – TruSense
Shivam Nirupam – Management Lead