Chatbots can be an excellent method to enhance customer service for your retail firm. You can provide your clients with responses to their inquiries 24 hours a day, seven days a week by including a chatbot on your website or in a mobile app. This can assist to limit the number of phone calls or emails you get, allowing your employees to focus on other responsibilities.
If you want to implement a self-service strategy with chatbots in your retail firm, you might first have to determine which operations your chatbot will handle. After that, you'll need to design and create your chatbot appropriately. Finally, you must promote your chatbot so that clients are aware of its presence and may begin utilising it to fulfill tasks. RouBot from Route Mobile eliminates this lengthy and complicated process. It can swiftly help you build chatbots of your own with a drag-and-drop solution through flow-builder across multiple channels.
Roubot can help retail firms create a more personalised shopping experience for their customers. Brands will be able to provide tailored suggestions, assist clients in finding the desired products, and answer any queries they might have. Roubot can also assist in keeping track of consumer preferences and order history, making it easier to supply them with the items they desire.
Roubot Conversational features for retailers to employ
The finest chatbots usually prioritise conversation quality and include features that guarantee a superior conversational experience. This is exactly what Roubot can do to transform the customer experience for your brand or business. Roubot is capable of successfully integrating the essentials of technology, flow, and design to handle client interactions without the aid of a person.
Let us explore a few: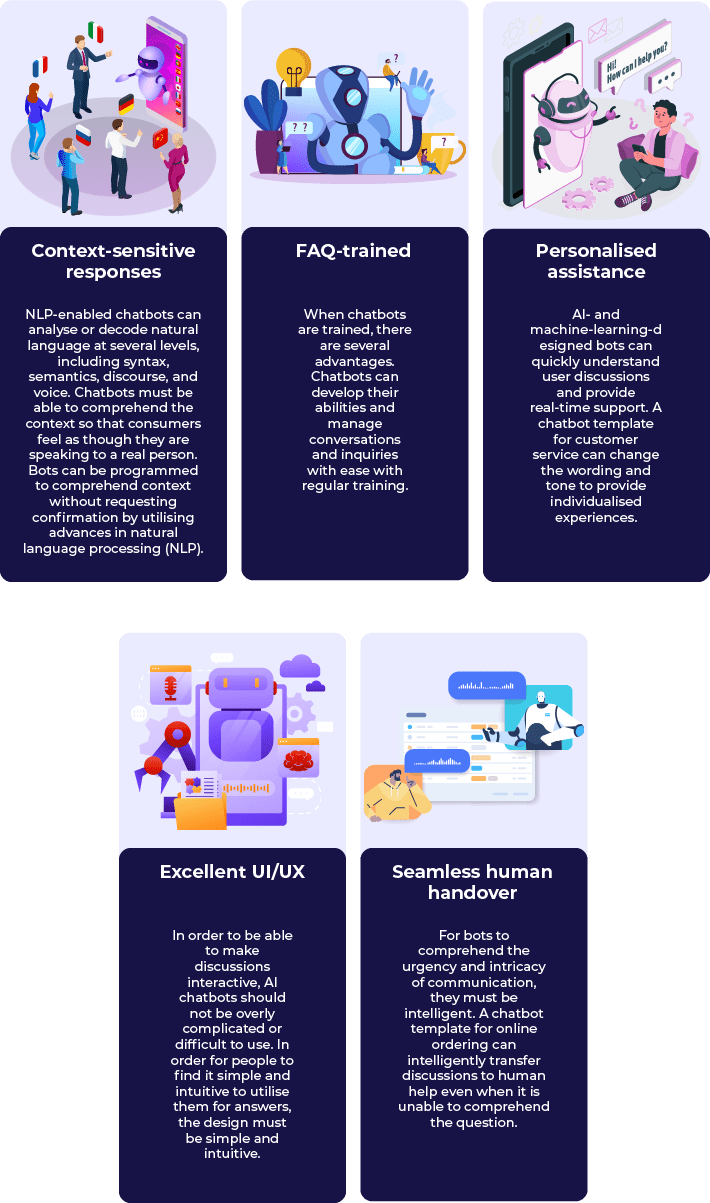 Refining Chatbot experience with user behaviour analytics
To evaluate behaviour and make wise choices, it is crucial to understand and analyse how users interact with your website. You can customise your chatbot depending on the data such as the length of time spent on various sites, the most and least clicked areas, the activities have taken before the cart was abandoned, enquiries, and more. You can use these inputs to build your own chatbot through Roubot in order to assess your customer engagement and increase sales. Customers want as much information about their orders as possible. Instantaneous shipment and tracking information is available from chatbots. They can assist them in resolving issues with refunds, exchanges, and cancellations.
For instance, prompt messaging at the checkout will increase purchases. Give customers the information they want throughout their visit to the website, such as shipping schedules, bundled discounts, etc. Data is another supplementary benefit. Chatbots won't forget anything, although people sometimes do. Bots can be programmed to evaluate customer data, make judgments in accordance with the situation, and broaden a company's strategy.

Summary
Enterprises must first comprehend the activities they want chatbots to accomplish before designing their chatbot. Businesses must develop a strategy for their chatbot's use and promotion when it is built. To guarantee that the chatbot is giving consumers the greatest experience possible, organisations must constantly analyse and improve it. Roubot is an intuitive bot that swiftly enables you to build chatbots of your own and keep customers engaged in intelligent conversations. It can offer customers a faster and more practical option to shop. Additionally, it allows agents to people spend less time on activities like product suggestions and customer assistance. Businesses can save money as a result, and their entire operations will be improved. Automate your retail operations with our Roubot solution to provide an unforgettable, frictionless CX!
Author:
Milind Pathak
(Chief Business Officer)