Nobody likes long checkout lines, and one of the major pain points of traditional retail is the long lines at the checkout counter. People often abandon their carts if the checkout line is too long. Massive businesses have adopted Amazon Go, which exists within the retail landscape, and it is important for retailers to create a seamless checkout experience to avoid losing customers.
It is exactly where contactless payments come into the picture, as payments allow customers to skip swiping their cards. It means shorter lines along with a faster checkout experience, and this is good news for both banks and credit card issuers. Consumers use contactless payments to use their cards more.
Let us look into first understanding what contactless payments are.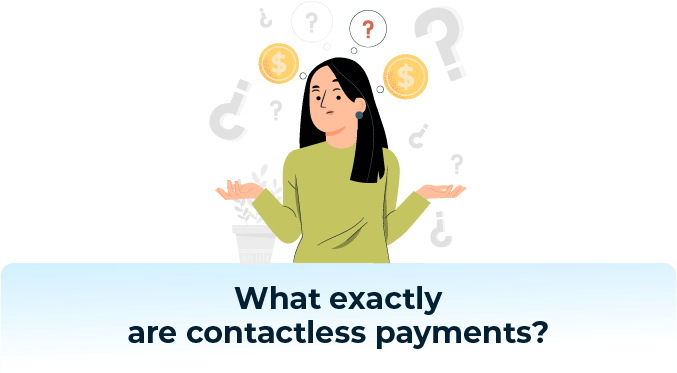 Contactless payments, or tap-and-go, are an increasingly popular and secure method to make the right purchase by using a debit, credit, or smart card that leverages near-field communication along with RFID. It does not require a signature or a personal identification number, and it is a faster mode of payment compared to traditional swipe and pay cards. There is a multitude of various benefits of contactless payments for retail, and it is widely used for public transportation systems.
The United States has fallen behind the rest of the world when it comes to contactless payments. More than 60% of visa transactions that were made in other countries besides the US were contactless. According to Mastercard, it is estimated that eight out of ten consumers use contactless payments.
The biggest problem is how payment systems have been completely fragmented, particularly in Asian countries like India, South Korea, and China. There are other major players such as WeChat and Paytm within the contactless industry that have made it much easier for consumers and retailers to come on board.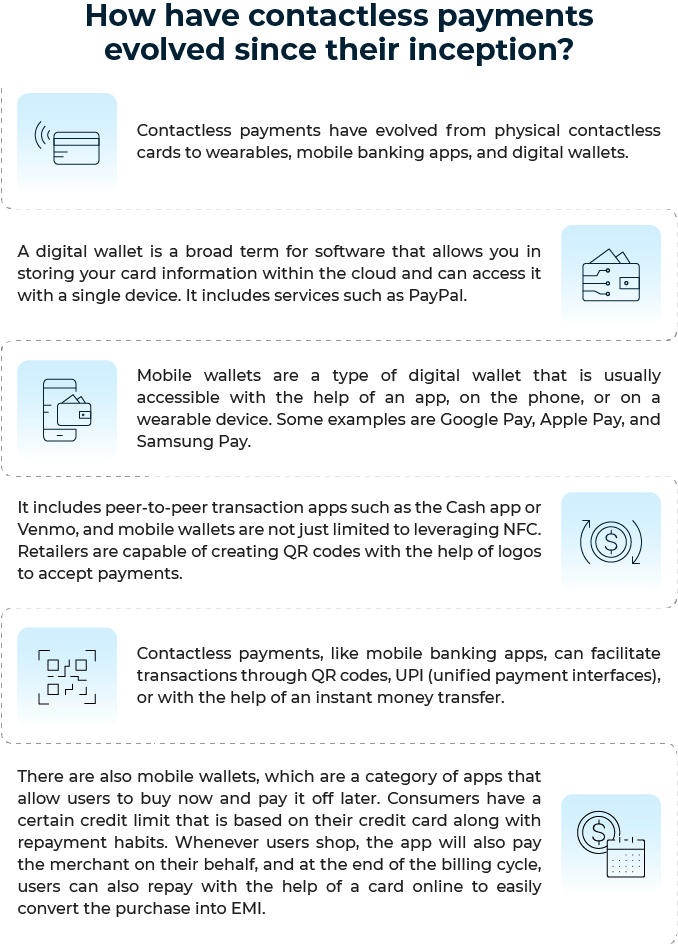 Read More: Contactless Payment: Know the future of Payment in Retail Industry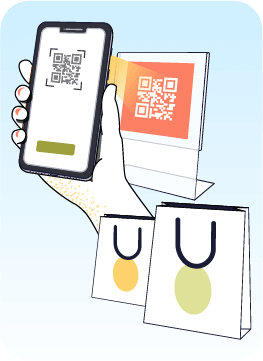 In what ways do contactless payments work?
Merchants can support contactless payments without a contactless payment symbol on the POS terminal, and the symbol looks very similar to the WiFi logo that is turned on its side. Customers will bring their cards one or two inches from the symbol, and there will be an instant beep, green light, or checkmark to indicate the payment that is made. POS terminals have an NFC/QR code sticker which customers can tap or scan through the app on their smartphone to make instant payments.

Contactless payments have great obvious benefits, and it is outlined that there is a faster checkout, shorter lines, and added convenience. Here are the various benefits of using contactless payments for your business:
1. Enhancing security and reducing the overall risk of fraud
Contactless payments offer the same protection as EMV chips along with PIN payments, which makes them safer than cash transactions. There is in-built protection that allows the same transactions to occur twice, and if intercepted, the details and numbers cannot be decrypted due to unique numbers that are used for transactions that do not match the actual card numbers.
2. Making the process more convenient for consumers
Nowadays, it is possible to swipe and pay for cards that require signatures or a PIN, which does not apply to contactless cards. Mobile contactless payments allow users to make payments even if the card is out of reach and the wallet is left out at home.
3. Contactless payments are incredibly hygienic
More than 94% of the bills that were tested in a 2002 study were bacteria-filled and while the bacteria remain harmless, physical cash carries dangerous pathogens such as E. coli. Unfortunately, cash is a hospitable environment for viruses and bacteria when making contactless payments. Thus, contactless payments are a viable alternative when it comes to hygiene, especially as the surface of a smartphone is not the cleanest and it's in the individual's hands alone without being passed from person to person as much.
4. Processing is quicker than regular card payments
Retailers have seen a massive increase in the average transaction value as customers have been constrained by the amount of cash that they are carrying and must not be frustrated with an inefficient checkout process, which leads to an overall reduction in abandoned sales.
5. Onboarding users into business loyalty programs
A recent study of shoppers within the United States showed that 93% of shoppers use a coupon code or a discount throughout the year. The main incentive of a loyalty program is discounts, and it makes sense that customers also want to be part of loyalty programs. The major pain point with traditional methods of onboarding shoppers into loyalty programs is the inconvenience. Shoppers are always asked to fill out the information at the checkout counter, either on a digital screen or a paper and pen form that puts them off.
Mobile contactless payments are a neat way for retailers to onboard shoppers onto their loyalty programs, and it is possible to create a landing page that appears after shoppers have made the purchase that allows them to check out the benefits that fill up the devices.
6. Boosting app adoption through contactless payments
Retailers have provided digital payment systems such as Walmart and contactless payment that can boost app adoption rates. The major convenience of cashless transactions acts as an incentive for shoppers to download the app. When you factor in the benefits of exclusive discounts and coupons, along with location-based in-store notifications, downloading an app is a no-brainer.
7. Promoting increased card usage
There is a major convenience to a tap-and-go system over traditional methods, which means that users are more likely to use their cards more frequently. It results in incremental transactions due to increased use.
8. Capturing transactions that are made with cash
Contactless has become the norm. However, issuers have had the unique opportunity to capture transactions that are usually made in cash. It is possible to leverage this data by offering benefits to users to invest in other types of co-branding opportunities.
9. Getting targeted discounts that are based on expenditure
Merchants have been partnering up with digital wallets to offer exclusive discounts to users that have increased the overall usage of the wallet and shopped at the merchant. The data that is collected from past purchases can also be successfully leveraged to display targeted discounts on all digital wallets.

Numerous brands have opened the door to making contactless payments a reality. Amazon's Go stores utilize a wide variety of different technologies in facilitating a contactless shopping experience, and whenever shoppers exit the store, the card is linked directly to their Amazon account, which gets charged automatically.
Target also rolled out a mobile wallet that allows shoppers to make payments using Target REDcard credit and debit cards. Contactless payments such as Apple Pay, Samsung Pay, and contactless cards were also a personal favorite. Nike's flagship store in NYC has created an instant checkout station by using QR codes that allow members to skip the line and make payments directly on their smartphones.

The future of transactions is all contactless, but it can spawn a new way to market it. The greatest benefit of contactless payment modes, especially for NFC and QR codes, is an added benefit that has resulted in a greater degree of consumer awareness about the technology, which is at an all-time high. It has allowed retailers to leverage the same technology to create a low-cost high impact contactless shopping experience.
The native capability of smartphones is able to read NFC tags along with QR codes, which is an obvious next step. The company Decathlon utilizes QR codes all over the store to enable customers to view product information and reviews, leave feedback, and add products to the cart. NFC tags have similar capabilities with greater, connected experiences.
Nike, Puma, Nestle, and PepsiCo brands have also leveraged various QR codes along with NFC tags within the store or along with the product packaging to create interactive experiences for all consumers. AR experiences are delivered with the help of the same technology, along with an upcoming new marketing segment that is soon to grow in a short span of time.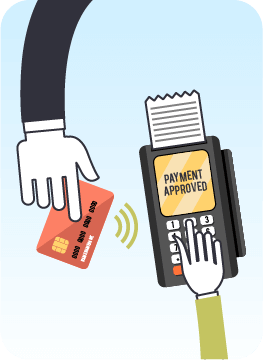 Have contactless payments established themselves as the future?
The new payments feature implemented by Google has added the feature of "confirming with a voice match" for the Google Assistant for smart speakers and displays. The feature is limited in capabilities and can transform the contactless payments industry, which can potentially be the initial start of v-commerce or a type of virtual commerce.
The global market size of the contactless payment industry is expected to grow from 10.3 billion dollars in 2020 to 18 billion dollars in 2025 at a CAGR of 11.7%. Retail is expected to be the front runner, and with an ongoing effort, it is possible to modernize the entire shopping experience. Contactless payments will take center stage. It includes reduced transaction time with increased revenue and contactless payments that improve operational efficiency by minimizing overall operating costs. Source: Evolute
In conclusion
Contactless payments are emerging as a one-stop solution for making purchases in a safer and more convenient manner, with customers, card providers, and retailers emerging as clear winners. Get in touch with our experts for a free consultation and discover the best opportunities to simplify and exemplify communications for your business. You can also write to us at marketing@routemobile.com.