The Rich Communication Services (RCS) Market is anticipated to register a growth of 12.5% CAGR between 2021 – 2026. This newfangled messaging format is now growing popular with many smartphone vendors and telecom operators. Numerous key drivers are responsible for the popularity of RCS. Higher consumption of high-speed broadband services, a surge in social media usage, focus on customer retention, global interoperability, the collaboration between the carriers, and investments in Long Term Evaluation (LTE) and IP Multimedia Subsystem (IMS) are some of the factors that have stoked the growth of Rich Communication Systems (RCS) in messaging. More businesses are turning to RCS Business Messaging (RBM) for both transactional and promotional communications.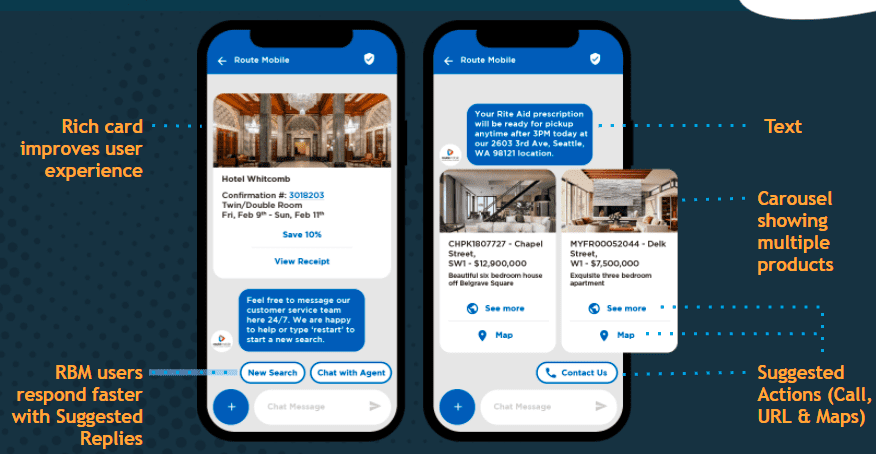 RCS Business Messaging (RBM)
is a boost to the entire SMS ecosystem. With 505 million active users, 136 operator-based global launches, and 2000 million addressable markets, RBM is growing popular in LATAM, France, North America, UK, and India. Being the successor to the traditional SMS, RBM depends on a standard user profile. However, it is packed with new features, such as read receipts, typing indicators, high-quality images, and media files. These additions set it apart from conventional messaging and give users a conversational chat-like experience.
Best Practices to Integrate RCS Business Messaging
Ensure device capabilities
Before initiating conversations, make sure that the user's device supports RCS messages. Businesses need to send a capability request to identify device capabilities and customize agent interactions accordingly. It makes sense to interact with users based on what their devices support. In case a user's device isn't RCS-enabled, resort to a fallback option by integrating RCS Business Messaging with any preferred communication channel.
Keep it conversational
Strike the right chords with your audience by initiating conversations on a strong note. Show off a strong brand persona by bringing forward the information that your customers care about, and share the true potential of your agent. Provide users with CTAs and actionable options for interacting with your agent and taking the conversation ahead.
Maintain a cadence
Adding various elements and features to step up your conversations would undeniably make it more engaging for your customers. However, be careful not to overwhelm your customers with too many elements. Keep text messages short and to the point. Images and rich cards can also use a copious amount of screen space. Ensure limited scrolls for users so that they can read the entire message in one go. It is not just about making conversations, but making it smarter that will take your brand a step further.
Keep a sequence while messaging
If brands and enterprises are sending multiple messages then it is important to ensure that these messages follow a sequence. Some messages are rich media files and may take a longer processing and loading time. Wait until you receive a message delivery confirmation response before sending the next message in sequence.
Clear and consistent messaging
Keep the language of your texts simplified and tone conversational to help users understand better. Simplified text prompts users to respond, and consistency in the style, formatting, and pacing of the text helps build trust with users. These are fundamental guidelines aimed to help brands engage better with their customers. For more information on Route Mobile's RCS Business Messaging and its integration,
click here.