With over 90 operators adopting and launching RCS in 60 countries, Rich Communication Service (RCS) has garnered an immense global presence. Since the world is shifting its gears towards "conversational commerce" and more than
50%
of the world's population are using smartphones for their daily needs – shopping to online banking; 66% of consumers are already interacting with brands through a chatbot for their initial queries. RCS, thus, drives a similar experience through the native message app. Conversational commerce has paved the way for significant innovations in business communications. Conversations are two-way, automated, and personalized through rich messaging channels. These conversations look more natural and are often deployed along with artificial intelligence or machine learning as well as supported by simple input fields or option buttons. While many businesses are using
A2P
Messaging via SMS regularly to communicate with their customers, P2A messaging is evolving with the advent of
RCS Business Messaging
. On this note, let's first understand RCS messaging.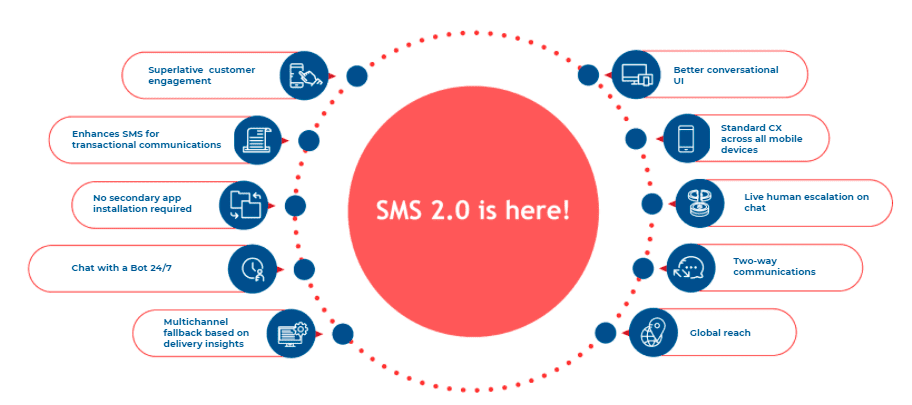 Rich Communication Service (RCS) is a telecommunications protocol that is redefining the way we engage over SMS messaging, it's
SMS 2.0
. This is a progressive messaging format with features like rich media support, carousels, sharing QR codes, in-app payments, suggested replies and actions, typing indicators, and many more. As and when needed, it can also connect and transfer users to a live agent. Compared to regular SMS messaging, RBM has shown a considerable improvement in customer engagement and response rates. This multimedia support for new-age texting has been introduced by mobile network providers, backed by prominent industry powerhouses such as Google, and many other handset manufacturers like Samsung. To sum it all, RCS enhances business interactions creating a chat-like experience for the users as well as embedding special features that help businesses to stay competitive and ahead of time.
LATAM embraces RCS and RBM
RCS was launched across most of the Americas by the middle of 2020 led by all operators in Canada, the USA, the America Movil group in LATAM, and other operators in Brazil. Mexico and Brazil witnessed a faster adoption and significant growth of RCS and RBM. As of today, over 30% of smartphone users are supported with RCS and are using it in their regular communication. GSMA Intelligence studies predict that the global market for business messaging is projected to be worth about
$74 billion by 2021.
While SMS has long been popular and effective for outbound marketing, RCS inception makes way for businesses to initiate better conversations with customers. Not just the application-to-person landscape, it has proved equally effective for person-to-application or inbound messaging as well. Whereas chat applications like WhatsApp support limited outbound messaging, Apple Business Chat restricts itself to customer-initiated inbound texting.
Evolving Messaging Ecosystem and better User Engagement with RBM
Customer intent plays a big role and deciding factor for businesses to choose their channel and successfully establish connections through messages. P2A traffic is extremely crucial as conversations are initiated by customers who could be potential leads. In an A2P situation, businesses are sending messages to customers who gave their consent to the respective enterprises. In both situations, a personalized engaging format would be a value addition that would enhance customer experiences. Usually, a P2A scenario occurs when customers are seeking and gathering information from the enterprises for the following purposes: 1) Seeking information to support their purchase decision 2) Need support for a particular area in their customer journey In either situation, businesses and customers can interact better with each other by a simple integration of RCS Business Messaging API. This would help the overall business in the following ways: • Faster placing and processing of purchase orders • Record and process request for scheduling or rescheduling appointments • Keep a track of customer details and provide basic information to their queries • Respond to customer complaints or queries faster and in a timely manner • Be easily accessible round the clock every day of the year • Share invoices and payment details for purchases • Remind customers of delay in payments or missed appointments • Keep customers informed of the latest news, product updates, and availability • Create a smart self-service portal where customers can conveniently do the initial bit by themselves RCS Business Messaging gives customers a lot more compared to the traditional SMS, overall creating a chat-like experience that customers prefer today. By enabling RCS Business Messaging for enterprises, we are aiming towards improving customer retention, thus extending the marketing approach towards an omni-channel experience. Customers are looking for transparent, genuine, and purposeful messaging from brands. RCS Business Messaging is another big leap towards creating conversations that are branded and engaging. Ready to transform your business communication with the next-gen texting? Contact us to know more about our RCS Business Messaging capabilities.
click here.