A conversation needs to be simple and clear. Now think of a river flowing down from the mountains nourishing the soil across regions. This river is the information that flows from the mouth of the developer. However, despite its simplicity and clarity, rocks block and divert the flow of the river. Information too is fluid that needs a solid medium to communicate else gets lost in ambiguity. So then what is a good conversation platform? Take for instance, Route Mobile Limited's rich and diverse mobile communication solutions which build conversation platforms at every level of interaction with your clients.

A utensil called business needs ingredients like solid ideas, backed by some good planning enforced by excellent people. However, this recipe lacks something very important — salt that enhances the taste and makes the item saleable. Likewise for creating the perfect recipe for the success of the business, well clear, and transparent communication is required. Conversational commerce differs from a more traditional marketing approach.
Enhanced ways to communicate
The mediums and modes of communications have transformed and evolved. Conversational Artificial Intelligence (AI) is changing the way companies interact and engage with their customers.
Answers to varied queries
AI helps organizations to meet customer demands, respond to suggestions and difficulties, give elaborate answers to the majority of common queries, and set reminders among many, many other interactive conversations without human intervention. Artificial intelligence has a wide range of uses in businesses, including streamlining job processes and aggregating business data. Researchers aren't exactly sure what artificial intelligence means for the future of business, specifically as it relates to blue-collar jobs; however, it has certainly catered personally to people.
Easily accessible
AI has taken digital technology out of the two-dimensional screen and brought it into the three-dimensional realm of the physical environment surrounding an individual. You probably interact with AI on a daily basis and don't even realize it. Many people still associate AI with science fiction but that characterization is waning as AI has become commonplace in our daily lives. Thus it's easily accessible and can reply to most of the queries.
Machine learns, machine talks
The evolution of chatbots and the use of Artificial Intelligence have made it possible for companies to build chatbots that are applications that enable customer interaction easily. In business, artificial intelligence has a wide range of uses. In fact, most of us interact with AI in some form or another on a daily basis. From the mundane to the breathtaking, artificial intelligence is already disrupting virtually every business process in every industry. As AI technologies proliferate, they are becoming imperative to maintain a competitive edge. When delivered by AI-powered social chatbot; speed and consistency would join forces backed by streamlined communication. Chatbots will also reduce wait time from minutes to seconds and upgrades the system to optimum level.
Also Read: Conversational Commerce: Everything you need to know
What are the benefits of understanding and knowing the importance of the customer journey?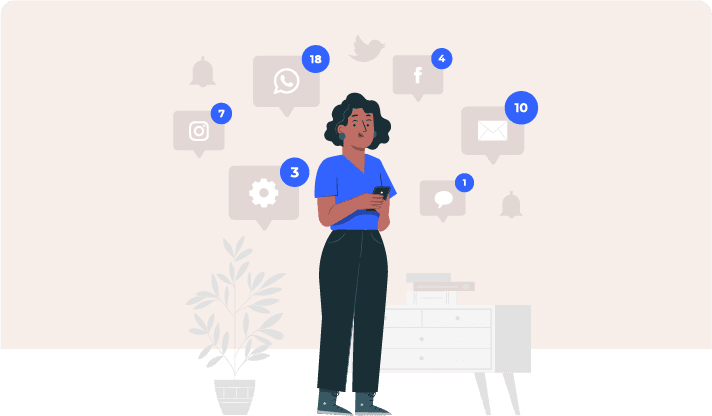 Taking a journey is important for the person, but what's crucial for businesses is to know the nitty-gritty of the journey that their target audience has taken. It helps you and your business to tell the story of your customer's experiences with your brand across all touchpoints. Whether your customers interact with you via social media, email, live chat, or any other channel; mapping the customer journey ensures that clients do not slip through the cracks and channel their attention towards your competitors.
What does a customer journey do!
The customer journey highlights
The pattern of constant changes witnessed in the market
Determine and keep tab on the transforming technologies that drives demand
Deciphers the possible reason for customers' responses over the same
Thus understanding the customer journey is crucial to anticipate customers' actions at each step to align with your goals and expectations. Understanding the customer journey is not just limited to experiences but also covers the identification of stages that lead to the final purchase. It takes into consideration the customer's feelings and motivation as well. Some of the reasons that mandate the need to understand the journey are it creates a better customer-seller experience, enhances understanding of customer and his/her preferences, identifies possible opportunities and future businesses, acts on shortcomings, and finally reduces unnecessary costs.

Be it around family and friends, while daily travel to work and/or home, leisure travel, in-between meetings, and discussions or shopping; each and every person taps into the digital world to engage oneself in the online world. That is how lives have become as everyone is digitally engaged. Exploiting this habit of our target audiences to the fullest is important for business.
Let us understand what we would need to do to boost digital engagement. We will have to partly channel our focus into interacting with potential and existing customers through various digital mediums to build a concrete relationship with them. These channels include email, messaging, social media and their influencers, and commonly and widely used mobile applications or Apps.
To draw your target audience and target businesses; we need to draw them to your company's vision, its story, and the journey. This will stimulate that extra curiosity and generate footfalls on your digital footfalls. The digital world of any brand needs to be updated, fresh with content, glossy and eye-catching, and most importantly honest which will describe the brand. Once, a customer or client logs in the interactions need to be personalized and it should offer a lot of content that would satisfy. Every click on the digital platform is a message that a customer wants to say and so listen to it carefully. Also provide freebies, discounts, cash-backs, and other benefits to customers to quick retention.

We believe in empowering our clients with future-ready solutions and forging strong relations. We always think about our customers first and our products are evident enough. We ensure that we trust your business, the idea behind it, and finally your expectations.