WhatsApp has rapidly emerged and evolved as a go-to messaging app for over two billion consumers around the world, where more than 100 billion messages are sent everyday using the same platform. The study says that on an average, android phone users spend around 38 minutes per day on the app!
Well, there's no doubt that WhatsApp is a simple, fast, and most convenient way for people to chat, share videos, documents and engage in private, secure conversations at any time, from anywhere. This is why Progressive businesses throughout the world are thrilled about the WhatsApp Business Platform's possibilities and clamoring to use it too!
Consumers increasingly expect to communicate with businesses the same way they interact with their family and friends. As a result, it's reasonable to conclude that it's critical for brands and businesses to take a deeper look at what the Messenger channel has to offer marketing experts in terms of reaching customers and strengthening relationships. In this blog, we will guide you to open a WhatsApp Business Platform Account on your own.
DID YOU KNOW?
WhatsApp has 2 billion active users worldwide.
WhatsApp is ranked as the most used mobile messenger app in the world.
More than 100 billion messages are sent each day on WhatsApp.
The average WhatsApp user on Android spends 38 minutes per day on the app.
How WhatsApp Business Platform Can Benefit Other Businesses?
With Route Mobile's WhatsApp Business Platform, companies get to send shipping alerts, appointment reminders, Order & delivery notifications, product videos, verification codes, flight details, boarding passes, and 2-way customer surveys and support messages. It's immediate, more personal, and lets you connect with a global audience. If employed correctly, WhatsApp messaging can take your business communications to a whole new level of engagement by initiating private, real-time B2C conversations with the correct target audience.
Features of Whatsapp Business Platform:
Labels:
With Labels, it becomes simpler to categorize your contacts and easier to locate a specific contact from a large list.
Business Profile:
You can create a business profile that will be beneficial to your consumers. You can include any information you want, such as a business description, an email address, a physical address, a website, and so on.
Quick responses:
With WhatsApp Business Platform, you get to quickly respond to frequently requested questions. You also get to store and reuse your frequently used message to quickly respond to regularly asked queries.
Automated messages:
While no one can be available at all times, it is also not a good idea to keep your clients waiting. So set an away message that informs your clients when you will respond. You can also send a welcome message to your consumers to introduce your company.
Broadcast list:
You can send the same message to a wide group of people multiple times without having to pick them each time.
Message statistics:
You can simply see all of the crucial analytics, such as how many of your messages were successfully sent, delivered, and read.
How to Get a Business Account on WhatsApp?
To begin, you do what you usually do when learning a new app. You download it and fill in all of the necessary information about your company. The WhatsApp Business Platform App is available for download on Android (through Google Play) and iOS (via the Apple Store).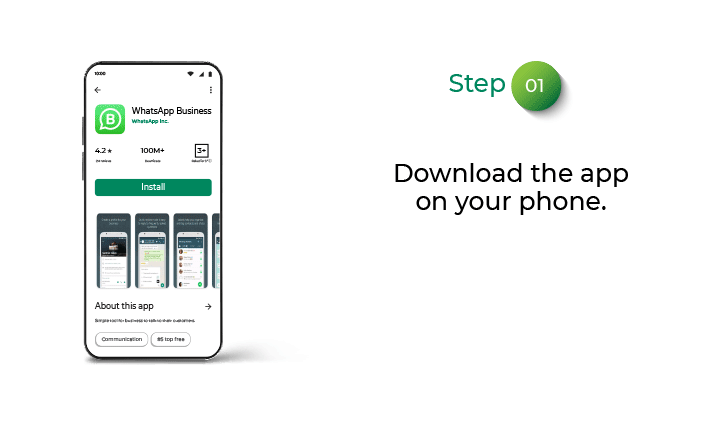 Step 1: Download the app on your phone.
Step 2: Read the terms of service and accept them.
Step 3: Send a text message to verify your phone number via OTP.
Step 4: Allow WhatsApp Business Platform to access your contacts and photos.
Step 5: Type in your Brand name.
Step 6: Select a profile photo (preferably your logo).
Please keep in mind that each WhatsApp Business Platform account can only have one phone number. It's also feasible to utilize a phone number that you've previously used on WhatsApp. That phone number, on the other hand, will be automatically deleted from your regular WhatsApp application.
But don't worry, your contacts and conversation history will be migrated to WhatsApp Business Platform. If you want to remain using your regular WhatsApp account, we recommend using a different phone number for WhatsApp Business.
Setting up your WhatsApp Business profile
Once you download the app successfully, you have to create your brand profile. This is a great and an easy way to inform your customers more about your business. All you have to do is fill out information on your brand name, the description of your business, along with a few information like business hours, email address and more. To add this content to your business account, you have to click on the button that says, 'describe your business'. You can also edit and update the information whenever you want.
Follow these simple steps to do the same:
Go to 'Settings'
Click on the- 'Business tools'
Go to 'Business Profile'
Change the information as and when required
Don't forget to submit the changes
Here's how Route Mobile's WhatsApp Business Platform can help you enhance your customer experience
With Route Mobile's WhatsApp Business Platform, we let you enhance your customer experience. Here we enable developers to create innovative experiences that reach more people in more places across the world, resulting in more effective client engagements. So, visit our website and get in touch with us Now!
Click here to know more about-