Two powerful factors are combining in today's environment to drastically alter how brands interact with their audiences in the future. Brands have been concentrating on optimising websites for mobile for the past decade in order to stay relevant and provide seamless customer experiences. As the use of mobile devices grows, companies are building mobile apps that reduce engagement from a multi-step process to a single voice query, optimising the user experience and increasing engagement.
Voice Bots- The convenient way to enhance CX and Engagement
The voice-first era is gaining traction, and voice assistants have gone from a nice-to-have to a must-have for businesses. With 40% of consumers using mobile voice search at least once a day and 52% of smartphone owners in the United States using voice assistants, enterprises looking to retain customers and enhance engagement are increasingly voice-enabling their mobile apps.
The Voice AI solution is a fantastic tool that understands and reacts to user problems in a variety of languages. It responds to questions in a manner that resembles human dialogue. In nutshell, Voice technology is here to stay and help brands improve their engagement rate. Many experts feel that AI-powered voice assistants are the way of the future for business-to-customer interactions and, as a result, should be a significant part of every company's communication strategy. Today the number of voice assistants is predicted to increase by 8 billion units by 2023.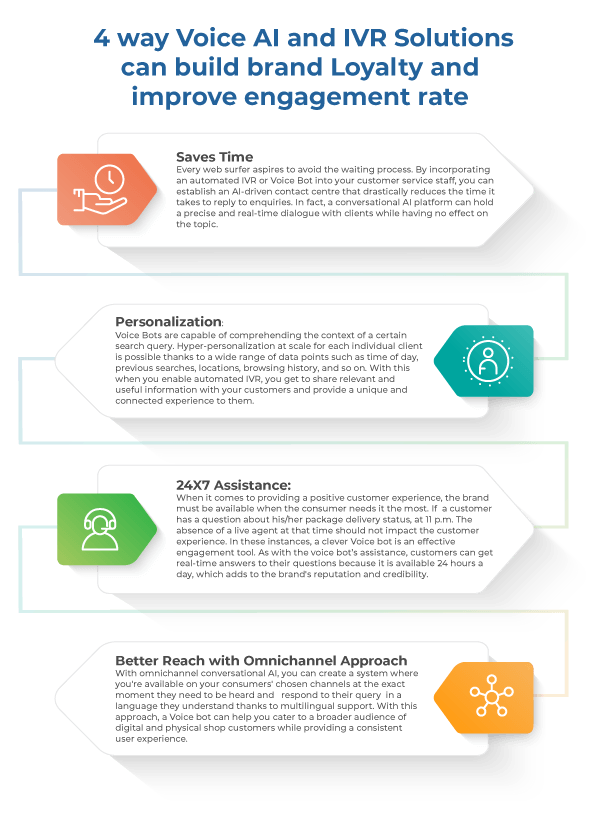 Also read: 4 best practical tips to improve your omnichannel customer experience
With this, it is safe to say that exploring voice solutions opens up conversations with users and improves the engagement rate. It's one of the best and trending ways to let your customers know you're listening to their questions and working towards improving their experiences.
At Route Mobile., we have all the tools and expertise needed to improve your communication strategy with our voice solutions. Want to learn more? Talk to us about how we can help you bring your voice strategy to life.