About the organisation
The client is one of the most trusted brands for the premier car rental companies of Sri Lanka. The company pride itself on providing dedicated and personalized solutions to fulfil all your transport requirements. As a member of the Rent-A-Car Association of Sri Lanka (RACA), their team has years of valuable experience under its belt, managing a vast spectrum of customer expectations. They guarantee a car rental service that this reliable, cost-effective, superior, hassle-free and one that does not compromise on comfort or safety.
With their large fleet of vehicles, they strive to serve a wide range of customer requests, from short-term rentals to long-term leasing and speciality contracts. They offer a variety of cars, minivans and large passenger vans to suit any need or occasion.
Here's how a car rental company improved customer service with Route Mobile's WhatsApp Business Platform
Challenges Faced
Customers often have queries about renting a car that the company's customer service addresses using voice calls. Staff also gathers customer information on calls to process quotations, which are sent by email
Call centres come with hold times and emails don't guarantee instant replies
The company strives for a customer support solution that delights customers on first contact and is responsive
Product
WhatsApp Business Platform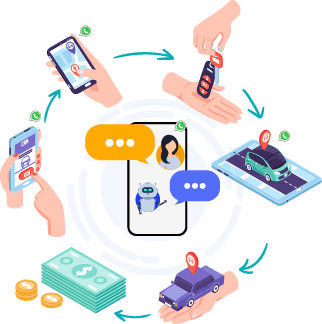 Scripted the success story by
The company bridges its communication gap through a chatbot
The chatbot gathers preliminary information about a customer, which helps the company to send initial rent quotations.
The bot also functions as a customer service agent and answers routine questions instantly
Outcomes of #RouteItRight methodology
Customer satisfaction has increased since bots were implemented, causing the company to switch to WhatsApp for customer support