About the organisation
The client is a rapidly growing life insurance company located in Gurgaon, India. Their life insurance products cater to individuals and groups addressing their different protection requirements. Their customer base stands at around 17 million insured as of December 31, 2019. The company represents the coming together of two renowned financial services organizations with a legacy of business excellence spread over decades.
The company started operations in India on September 01, 2008, and has a pan-India presence through multiple distribution channels, which have been customized to address the specific insurance needs of diverse customer segments. The Company is committed to providing protection and quality financial advice to its customers.
Here's how a life insurance company from Gurgaon,India, improved their notification delivery with Route Mobile's WhatsApp Business Platform
Challenges Faced
The company has a large customer base. Without an efficient system in place, the company struggled to notify its customers. Without notifications, their customers found it difficult to get access to different services and aspects of their policies. The insurance company was out to find an efficient solution for notification delivery to their customers.
Product
WhatsApp Business Platform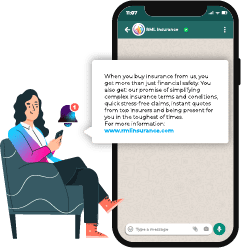 Scripted the success story by
Created a Whatsapp Business Solution for quick, reliable, and secure notification delivery
After customers opt-in, they receive direct WhatsApp messages from the insurance company
Customers can similarly opt-out of receiving messages too
Customers can initiate chats requesting information like the nearest branch location or the latest policy updates
The company also sends premium payment notifications containing the amount due and the due date
Outcomes of #RouteItRight methodology
Integrating the Whatsapp API significantly increased convenience among customers.
Offered a smoother customer experience
Prompt notifications helped increase on-time premium payments