About the organisation
The client is a Nigerian online bill payment service. Consumers can pay bills for electricity, cable TV, mobile airtime, and data. Consumers pay bills by adding funds to their proprietary accounts or redeeming rewards received after watching advertisements.
The company's mission is to make life easier by providing a convenient, secure and reliable bill payment solution. The company's vision is to build a world-class Pan African bill payment platform that offers convenience, security, and reliability and connects people, businesses and organizations.
Here's how a Nigerian online bill payment service company improved their billing with Route Mobile's WhatsApp Business Platform
Challenges Faced
Consumers' current touchpoints for making payments are through the company's website and mobile app. Consumers expect bill payments to be quick and simple. The company realises this, and with daily growing transactions, it decides to add a channel that addresses this need to make platform access easier.
Product
WhatsApp Business Platform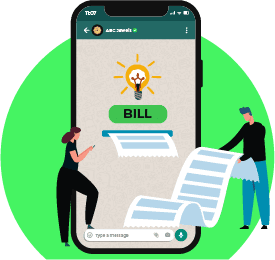 Scripted the success story by
Created a Whatsapp Business Solution with an intuitive CPaaS solution to help customers engage easily
The chatbot helps a consumer make all transactions that are possible on the website or app
Checking the balance, recharging the account, and contacting customer care were possible from the chat
Added to consumers' convenience by making bill payments easy
Helped the company see a jump in bill payment volume.
Outcomes of #RouteItRight methodology
Integrating the Whatsapp API significantly increased the convenience of bill payments
Offered a smoother customer experience