About the organisation
A leading online fintech company that offers Personal Loans at low interest rates instantly with minimal documentation. The company allows prospects to apply for loans online with ease.
Here's how the company deployed RCS Business Messaging to promote their app and enhance customer satisfaction.
Challenges Faced
The company used traditional SMS-based campaigns that were less effective and wanted an engagement solution that complemented their state-of-the-art online platform. The objective was to incorporate rich media into their campaigns in order to engage with their clients in deeper, personalized, and meaningful interactions, thus enhancing customer delight and increasing app installs. Additionally, the organization wanted to also attract on-the-go customers, allowing them to apply for loans, look up career opportunities, and enable customers to earn and redeem points.
Product
RCS Business Messaging
Scripted the success story by
Introducing RCS Business Messaging to help promote their mobile application.
Enabling the company to add up to 10 rich cards in a single message, along with suggestive buttons like URL Redirection, Location, Call Dialer and Plain Text
Allowing them to initiate a chat conversation with their prospects, share embedded links, location details, application requirements, and promotional content, among others
Ensuring campaign success & consistent levels of connection despite lockdown enforced exigencies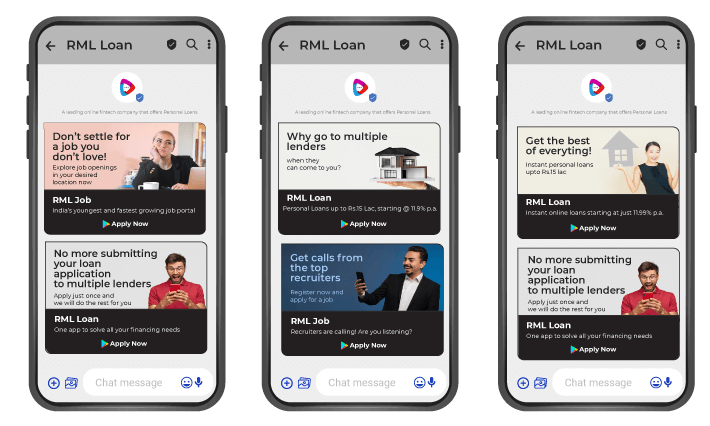 Outcomes of #RouteItRight methodology
Influenced the company to run targeted campaigns using RCS Business Messaging to ensure a positive first impression on their prospects
Actioned an immersive and rich, contextual messaging solution that works as an SMS, with a capacity to reach and engage with a large customer base
Scored an astounding 80% in the capability check for the campaigns (RCS enabled handset), with a handset delivery of 90% (capable handset), and a read status of 30%
Give your prospects an immersive messaging experience by integrating Route Mobile's RCS Business Messaging.