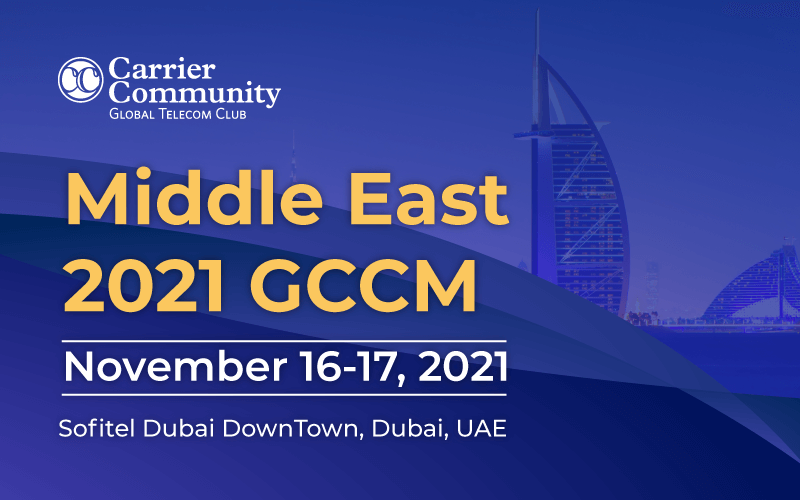 Date:
November 16-17, 2021
Event Name:
Middle East 2021 GCCM
Venue:
Sofitel Dubai DownTown, Dubai, UAE, Booth no- B3
About this event:
Carrier Community (CC) looks forward to hosting its 7th annual global carrier community meeting (GCCM) on the 16th and 17th of November, 2021 in Dubai.
This event brings together more than 400 Global Telecom Club members, expert decision-makers from 200+ top-tier operators, and delegates from 50+ countries. They will all have the unique opportunity to meet and network. The Middle East 2021 GCCM welcomes Carrier Community sector-wide members representing: Voice, Data, SMS, Mobile, VAS, Cable, Satellite, Data Centres, and other related sectors will enjoy full access to: all meeting facilities, executive panels, knowledge-sharing sessions, leisure activities, and evening networking receptions.
During the event, submarine, digital cloud, and women in tech executive panels will help CC members address current industry challenges and come up with comprehensive solutions to today's rapidly-evolving telecom environment.
Area of interest:
Voice, Data, SMS, Mobile, VAS, Cable, Satellite, Data Centres and other related sectors
Meet the team:
Sharad Thukral, EVP Middle East & Africa
Gabriela Ghencea, AVP Sales
Carl Powell, VP- Global Partnership & Alliances- Europe