In this constantly evolving world of technology, businesses that still manage and prefer one-on-one or telephonic conversations are considered to be outdated. Today, customers have become more critical when it comes to instantaneous forms of communication while using different messenger applications. As per the current market scenario, enhancing customer experience is the only way to increase the conversion rate. Experiences that make customers' and employees' lives more easy, safe, rewarding and of course productive!
Today's buyers prefer social media over emails and other messaging tools, as they get quick information easily accessible to them at their convenience.
Wondering Why?
Well, chatbots allow buyers to find information and solutions no matter what device they use. It fills the gap between businesses and consumers, allowing them to improve the responses as per its clients' requirements.
In a nutshell, it helps brands to build a credible business model that provides the best possible customer experience.
According to a report by Mordor Intelligence, the chatbot market is expected to grow by almost 35% from 2018 to 2024.
Major brands across Technology, AI, Online Retailers, Consumables and Electronics are constantly working to create their own chatbot platforms.
As Chatbots can be extremely helpful for a business to create a strong brand image in 2021 and they will continue to evolve and perform a vital role in customer service for all different types of companies, here's how –
Top 4 Chat-Bot Trends to Watch for in 2021
Chatbots are Now Based on Natural Language Processing(NLP):
In an effort to stand out and get into the spotlight, businesses have already started their research on Natural Language Processing (NLP) to understand and send accurate responses to users' inquiries. Here, the ultimate goal is to allow users and AI to communicate more naturally and understand as well as respond to complex requests.
Bots for Internal Business Communications:
Along with addressing common problems and answering customer queries, chatbots can also be used to communicate with employees and finish HR-related tasks and transactional functions. From assisting the employee onboarding process, filing screen questions, recording answers to guiding new employees through company protocols, chatbots are now taking charge of internal business communications and helping IT desk agents to save time and fix more complicated issues.
Voice-Bots are also Set to Help Businesses Enhance Customer Service:
Today, customers want to consume information rapidly and are increasingly shifting to voice search given the technological advancements, and hence, now, messaging platforms that have both voice and text-based programs are becoming a preferred method for companies to engage and connect with their target audience.
According to Gartner's research and analysis, 25% of tech interactions of customer service operations will use virtual assistants in the near future.
Live Chatbots to Bring a Human Touch:
Chatbots are taking over a number of business sectors and are now ready to engage with the target market by communicating with them using complete sentences which have a natural, conversational flow.
It is estimated that by the end of 2021, chatbots will have seamless and realistic conversations with the customers and will help enterprises to further improve their customer engagements.
The Chatbots Market was worth USD 1274.428 million in 2018 and is projected to reach USD 7591.82 million by 2024 registering a CAGR of 34.75% over the period (2019 – 2024).
Conversational Commerce to Boost Online Commerce
From navigation support to typing messages on our phones, we use voice assistants almost regularly. And, enterprises too are leveraging voice assist solutions in their user experience strategy. With conversational commerce, customers can communicate easily with online and in-store brands. Enterprises also understand that websites require more than just SEO-friendly content, which pushes users to rely on search engines. Incorporating Conversational Commerce personalised the buying experience, as well as allows users to access, communicate and purchase remotely, without visiting a physical store, a blessing in these times. AI solutions like Chatbots could promote online commerce, encouraging people to buy more.
In fact, in a recently conducted survey, we found that over 63% of enterprises think that Chatbots help increase the conversion rate on a website.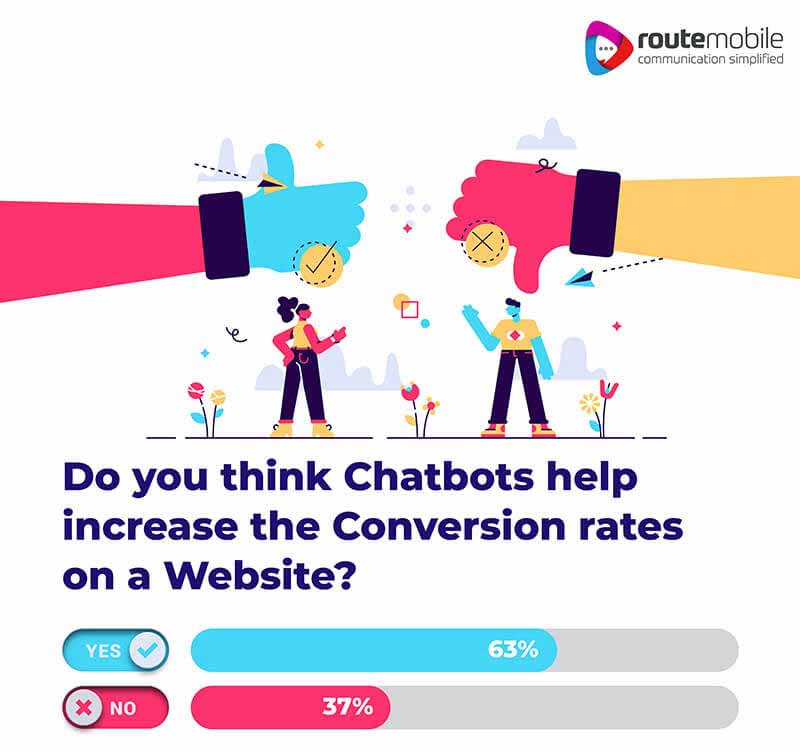 Chatbots are constantly evolving and helping brands provide the best customer service by connecting with customers in real-time. Approximately 47% of organizations are expected to implement chatbots for customer support services, and 40% are expected to adopt virtual assistants and with this, it is safe to say that by the end of 2021, chatbots will help the business to capture the market and will be a major investment in customer experience in the coming years. Click here to know more.