The uncertainty due to the coronavirus pandemic coupled with lockdown restrictions have accelerated the 'shopping shift' towards online in 2020. The online retail industry is predicted to hit $4 trillion in 2021, where the US alone is expected to have 300 million online shoppers by 2023. The shopping behaviour continues to evolve from retail stores to Ecommerce websites with baby boomers being the first time shoppers. Emerging markets such as India, South Africa, Russia, Brazil are playing a massive role in the future of eCommerce. Infact, as per a recent social survey, which we conducted earlier this month, about 67% of shoppers prefer a brick and mortar store which can also provide a great online shopping experience.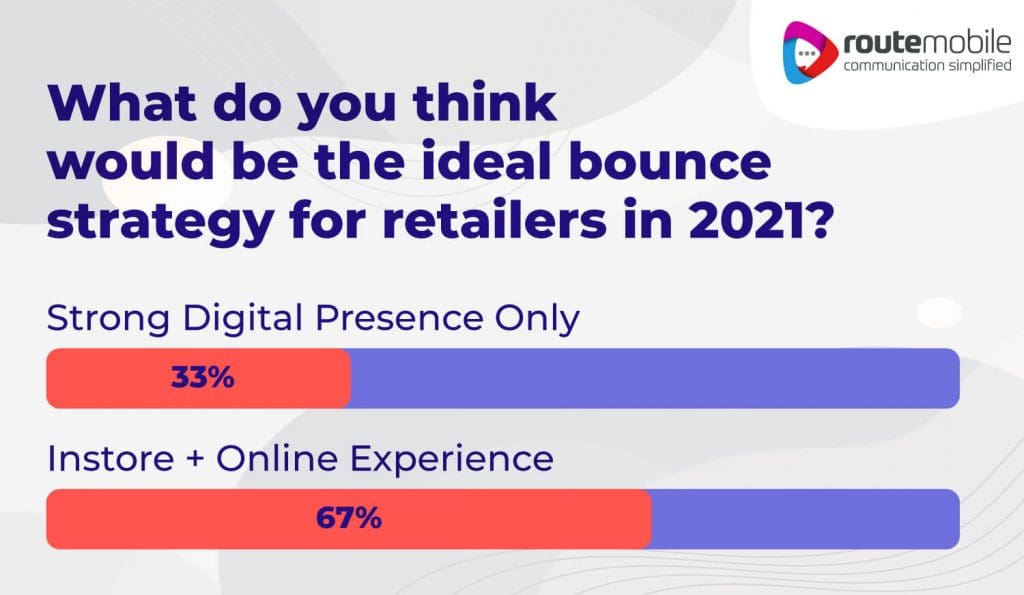 Since, it's the last week of a rather eventful year, where people and business had a tough time coping with an ever-changing situation. And, as we transition into 2021, it's vital to have proper planning and explore the latest trends which can boost your Ecommerce sales exponentially.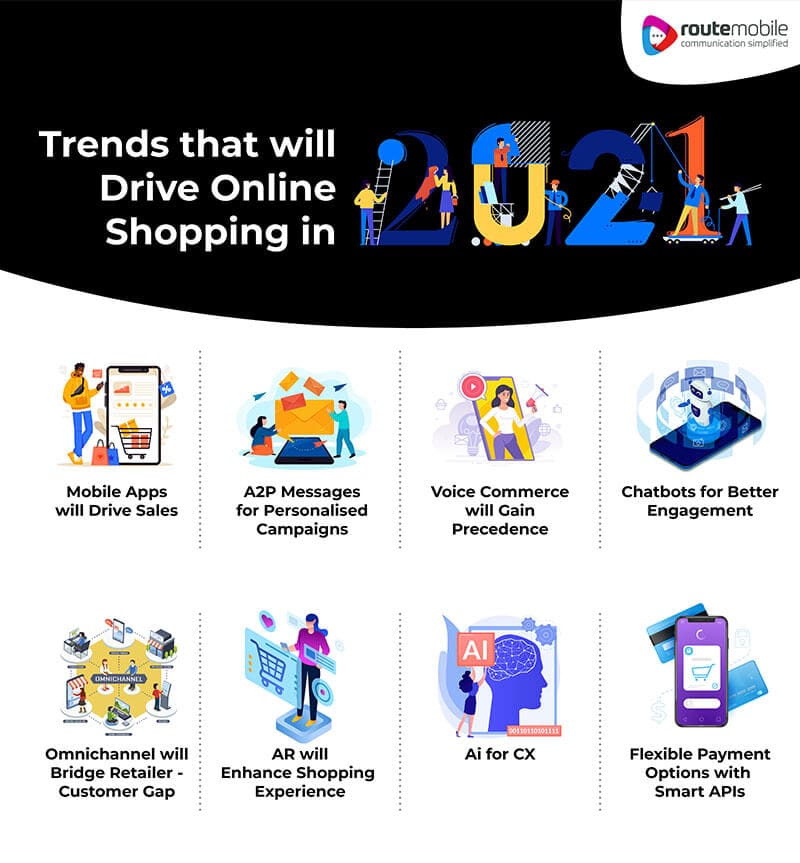 Here are the top 9 leading trends that will continue to drive online shopping in 2021:
The Upsurge in Mobile Shopping:
A mobile strategy is truly a win-win situation for both retailers and customers and has become a potential channel for shopping. Mobile shopping is also expected to grow by 68% by 2022, thanks to a host of new mobile advancements like RCS Business Messaging, WhatsApp Business Solutions, and Viber Business Messages that are making it easier for customers to shop from their mobiles. Newer advancements such as 'buy buttons' and 'one-click checkout' on mobile apps will make customer purchase experience even more enriching and seamless.
Increased Value via A2P Messages:
For decades, A2P Messaging has been a valuable channel among offline and online shopping. SMS campaigns are a value-add to have better outreach for all your mobile engagement. You can show some rich media and add suggested replies and suggested actions with RCS Business Messaging. The Verified SMS feature can let your customers know that you are a verified sender by displaying your brand name, logo, and brand colours on chat messages. Enterprises will certainly leverage Personalised SMS's in their campaigns even more in the coming year in their customer outreach efforts. Additionally, this could also act as an effective medium to educate customers on pandemic related changes and updates that they would genuinely want to know.
Chatbots are Inevitable:
Companies across verticals are using smartphones and cloud services to better engage with their target audience. The role of chatbots is changing from answering simple queries to comprehending some of the complex customer scenarios. When chatbots are integrated with popular apps such as WhatsApp and Viber, you can automate direct communication that will avoid holding online and having conversations with strangers for support service. Messaging platforms will be a key driver for growth of chatbots and voicebots as preferred methods to engage businesses with their customers.
The Rise in Voice Search Shopping / Voice Commerce:
Voice Commerce is the latest trend that's shaping mobile commerce because of the convenience and speed it offers to make a purchase. Virtual voice enabled digital assistants like Siri, Alexa, Google Assistant, and Microsoft Cortana are immensely popular and widely used in voice-enabled searches. Voice Commerce is poised to gain traction next year, as one can order groceries, call a cab, and listen to a favorite song using virtual assistants. Making a significant investment in voice commerce will keep you ahead of the curve.
Mobile Identity to Reduce Password Fatigue:
With passwords having proven ineffective in preventing breaches, your smartphone is becoming your ID to access secured information. According to a recent study by a leading research analyst firm, 89% of security leaders believe that mobile devices will act as your digital proof of identification to access enterprise services and data in the near future. Hence in 2021, we will see enterprises dealing with confidential customer information will implement robust mobile identity solutions and promote secured digital dynamics within their UX strategy. This would eventually even reduce password fatigue among users.
More Omnichannel Shopping:
Omnichannel shopping allows you the flexibility to extend your shopping experience on any device or any platform. Omnichannel retailing allows enterprises to manage all customer orders by increasing the efficiency with timely delivery of products. As customers come through multiple channels, they are synchronized through Omnichannel platforms, making the whole buying experience seamless and retailers can handle queries and deliver quickly. Omnichannel shopping will minimise the distance between customer and retailer by embracing contactless transactions and curbside pickup via different apps.
AR-powered Shopping Experience:
Offline shopping has evolved immensely over the past few months like never before; from physical interaction to checkouts with minimal contact with the store staff. Augmented reality is transforming online shopping by allowing customers to visualise products in real-time with 3D visualisations where a customer can visualise how the product will look on them. By integrating AR features into your existing Ecommerce platform / app, enterprises can elevate the shopping experience, even during these changed times with social distancing norms still prevalent, and adding a new dimension to the brand and products.
AI and ML to Enhance Customer Service / Experience:
Artificial Intelligence (AI) and Machine Learning (ML) both are contributing significantly to offer tailored user experience and personalised buying experience. The algorithms detect every customer behaviour on the website and accordingly provide data on how the individual has interacted with your content. Artificial Intelligence and Machine Learning also offer a personalised CX, by addressing different welcome text, product categorization, analysis of customer reviews, and many more.
Flexible Payment Options:
Every business requires a proper one-way payment integration which will provide ease to its customers. For instance, when your payment options are directly linked to a customer's favourable channel like WhatsApp then adding payment buttons provides a user-friendly buying option. It's the last step for the closure of any deal, so we mustn't let the transaction get abandoned due to the long payment system. Brands that introduce multiple payment options and make mobile friendly payment provides a seamless experience through API's and omnichannel platforms.
The future of online shopping relies on how retailers integrate themselves with the latest trends in 2021. With Route Mobile's simplified cloud communication solutions, retailers can upgrade their existing communication channels, optimise their CAPeX and OPeX, as well as reach their target audience seamlessly. Click Here to Know More.