Reaching your potential customers can be challenging if your customers do not know who is calling. It could be the case as they might hesitate to answer calls from unknown numbers. So, how can this be solved? Well, here is when Truecaller Verified Business Identity comes to the rescue. All one has to do is register their business and go through the screening process, after which one becomes a verified business caller. Then, every time a business makes contact with its customers, the latter would get a green caller Id with a green tick, indicating that a business is verified and is not a fake one. This enhances a brand reputation with a reduced probability of getting marked as spam. This further improves the service delivery to customers and call efficiency.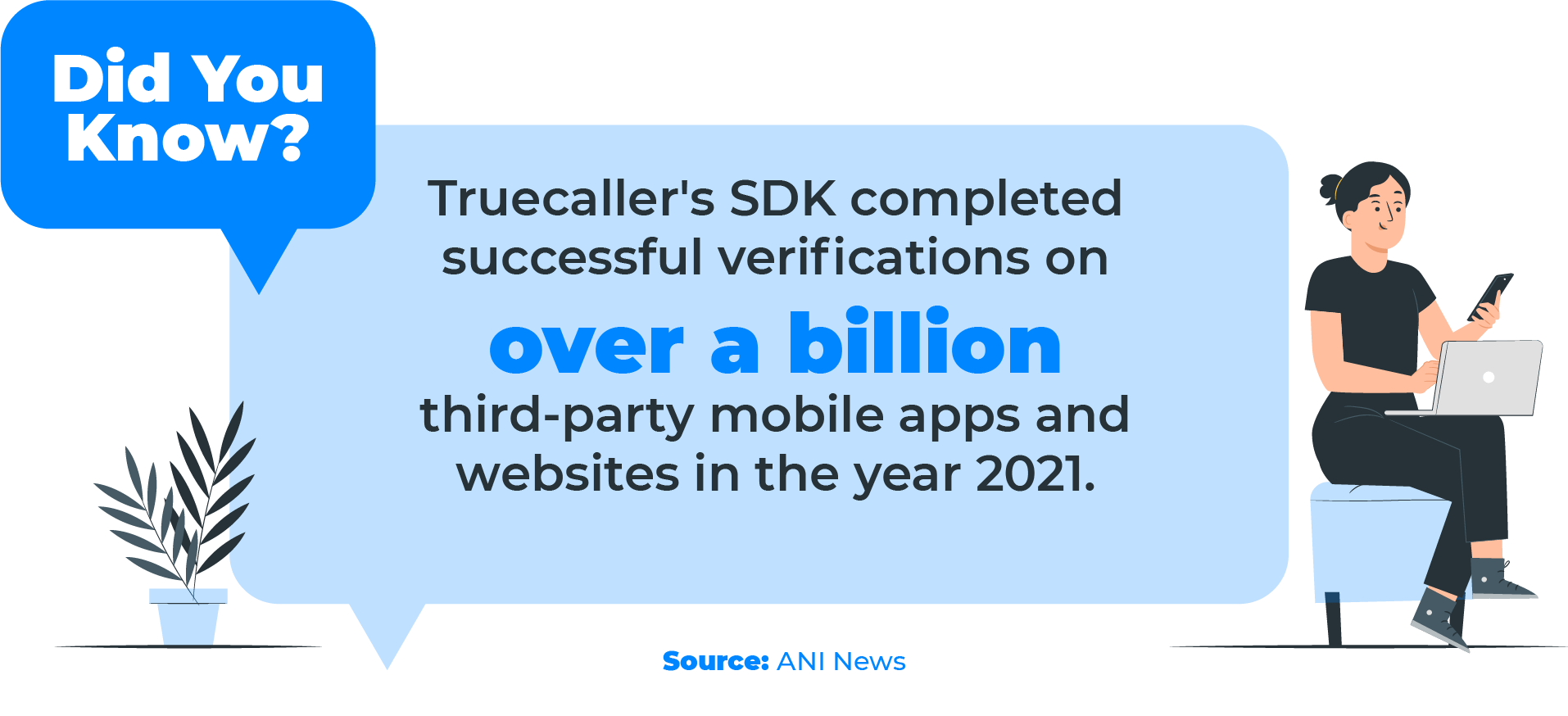 Unanswered calls might jeopardize a company's capacity to deliver beneficial information to its customers if it makes outbound calls. This is why businesses should use Truecaller's Verified Company Identification Solution to seem legitimate when calling new customers. While customers ignore fraud calls, business call stands out from the clutter. This establishes brand safety and trust with the customer because now they know that a genuine business is calling.
Benefits Of Truecaller Business Caller ID
Customers get a complete context about the incoming call with Truecaller's Verified Business Identity Solution. It enables customers to identify the distinct badge of verified and priority calls.
Ensures trust and safety – Helps customers differentiate genuine calls from spam calls.
Adds context to calls – Adding call reason to business calls improves customer confidence by informing them of the reason to call before being picked up.
Improved business prospects – Calling efficiency increases which further drives revenue, retention, and improved customer service.
Track Performance – You get access to the analytics module and can understand the health of a brand's call campaigns by gaining insights into calling patterns.
Features Of Truecaller's Business Caller ID
Get a verified tick and green badge alongside your account
Display your brand name and logo with each incoming call
Reach users on both Android and iOS caller IDs
Display the industry tag for your business
Use priority caller-ID for time-sensitive calls
Provide a call reason to customers for a better context
Visualize analytics on the dashboard
With Route Mobile's Truecaller Verified Business Caller ID, you can now boost your call pick-up rates, manage your business numbers, and gain greater insights into your campaigns.
Get Started
As an example, let's look at internet buying. The rise in online shopping has increased the demand for convenience. Today shoppers expect a seamless, safe, and quick purchasing process. Even a small hiccup like a delayed OTP or a long registration form can lead to drop-offs. Truecaller provides a convenient plug-in solution for your online retail site that enables number verification without the usage of an OTP. When a customer uses truecaller's one-tap flow option, their verified name, phone number, and other information are auto-filled so they don't have to type anything. This way, there's a potential to save money on verification and cut down on checkout time, drop-offs, and cart abandonment.
As a result, the online shopping company may offer customers a simple checkout experience, resulting in more successful verifications. There is no need for coding and there is no expense. This is an example of how an online retailer may connect with Truecaller and charge up their businesses as well as their consumers for a seamless buying experience.
As a company, attracting your customers' attention is critical. Because users are always unsure and skeptical about Who is the caller? Is it possible to trust the caller? What if it's a forged ID? etc. Because of a lack of safety, trust, identification, and knowledge of the context of these calls, customers frequently miss critical messages. As a result, the firm's expectations are not realized, resulting in
A loss of revenue
Users' inattention to the situation
Users being unable to recognize a brand
Call rates and conversions being negatively affected
Negative feedback (block/mark as spam)
For large firms with various business units, consistent branding across caller ID displays is crucial. Clients may be misled by caller IDs that display many variations of your company's name. Instead, adopting a verified identity solution ensures consistency in the caller ID name before making any customer calls. For example, "Your Business Name" is a great example of an outgoing main number ID that you should feel comfortable sharing with all of your current and prospective contacts, including potential customers and investors. People are suspicious of con artists these days. More people are becoming aware of how spam calls may seem and sound. They are becoming more aware that spam and scam callers frequently use a "local" number without a name as their caller ID in an attempt to imitate the recipient's area code. Many people assume that if a person's ID is restricted, that user is a spammer. Even if the phone number is real, unidentified calls are only answered by a small fraction of people. This is why, to look authentic when calling users, firms should employ verification and identity solutions. This may help a firm look more professional while also increasing call efficiency. Contact us Now!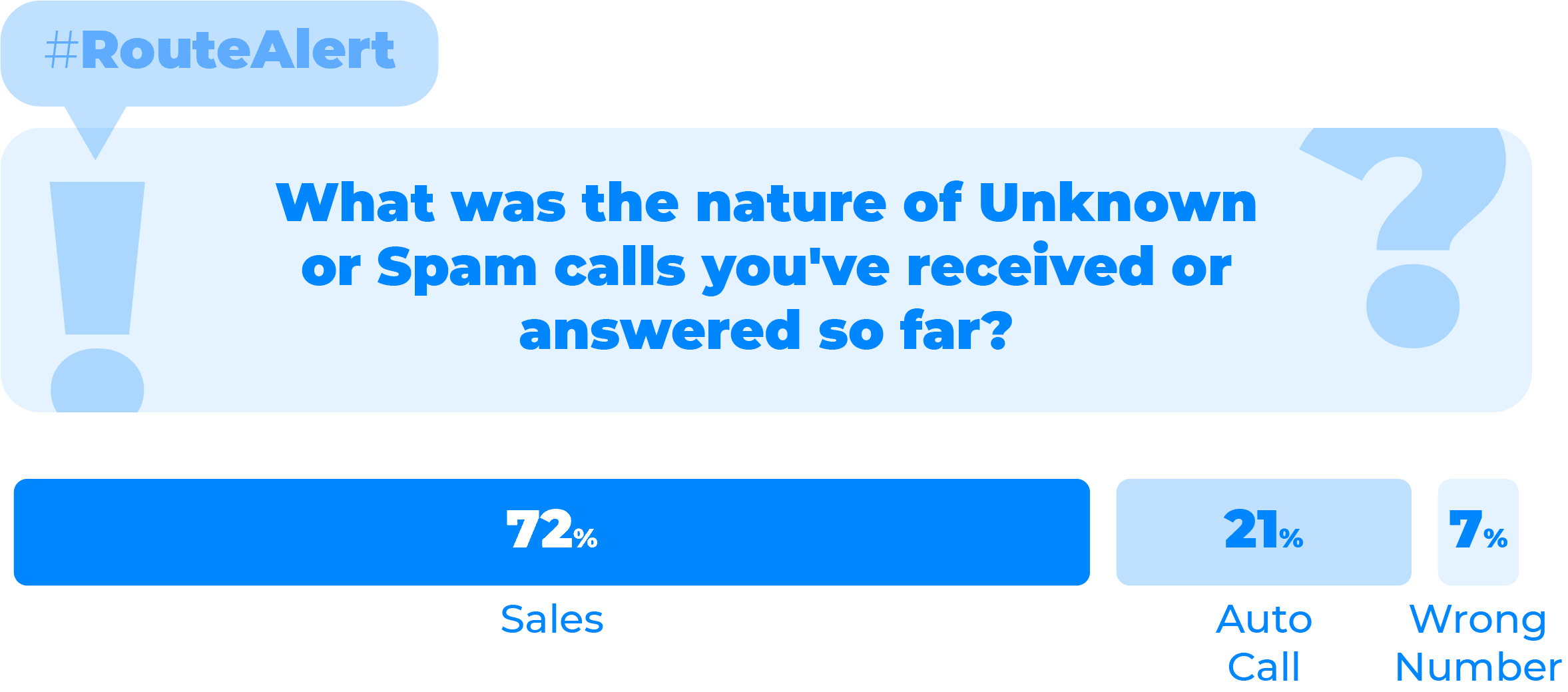 Poll Results Out:
In response to our poll question, What types of unknown or spam calls have you received or answered? Here are the results:
Based on 199 votes on LinkedIn, Sales calls topped the spam calls list with 72% votes, followed by Auto Calls and Wrong Numbers with 21% and 7% respectively.