What is FTEU Short Code?
If you've ever signed up for a company's text messages or SMS marketing updates, you've probably noticed that the messages don't seem like the ones your friends or relatives send you. You may notice right away that the phone number from which the message is sent is shorter than you're used to seeing. These truncated numbers are technically called "short codes," and they have a purpose in SMS marketing, as you may or may not know.
A Free to End User Short Code (FTEU Short Code ) is a five-digit phone number that allows businesses to send text messages at scale while also allowing them to operate their marketing campaigns smoothly and efficiently. It is one of the most intelligent ways for brands to engage in productive communication with their target audience. Customers can opt into SMS marketing campaigns using FTEU Short code by texting a word or phrase known as a "keyword" to a specified number that is designed to be shorter than regular phone numbers to make the opt-in procedure easier.
At Route Mobile we intend to offer the unique toll-free number range 55757-XXX allowing configuration of numbers starting from 557570 to 55757999-digit code to enterprises/brands and OTTs. It is more like a 2-way messaging service where customers have to text a keyword to a company's FTEU Short Code, to opt in to their promotional campaigns. Businesses then send these opted-in subscribers automated SMS messages.These FTEU Short Codes can be used for multiple purposes such as advertising or promoting events, sharing coupons, enabling easy booking or query solution options or any other company communication, or just to get easy feedback.
To interact with an SMS short code, a customer must first compose a new text message on their phone that includes the appropriate Keyword and send it to the brand's SMS short number. With this service, brands can provide an SMS live-chatbot to engage with their customers.
SMS based FTEU Short Code – A Unique Approach of 2-Way SMS!
If you send more than a few hundred messages every day from a lengthy code, you risk having your communications tagged as spam. Carriers pre-approve short codes for high throughput, and they are not subject to carrier screening. They're ideal for conveying high-volume or time-sensitive messages because of this. The advantages of SMS-based FTEU Short Codes are numerous. It assists a wide range of organisations, from major multinational corporations to small firms and sole traders, all with the same goal in mind: engagement. It can use surveys, subscription services, tracking, and even secondary sales services in addition to generating feedback. Its two-way messaging functionality is useful for a variety of company tasks, including sales, operational communication, and client retention. Please Note, this solution does not necessitate the use of any additional software or apps.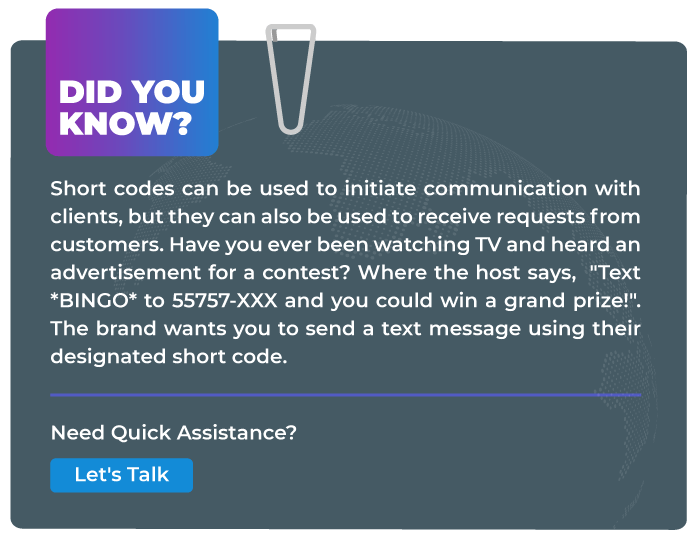 What's in it for you?