The increased number of eCommerce brands has widened the choice these days, so the brands really need to stand out if they want to make that sale happen. Gone are the days when more visitors to your website means you are more likely to excel in sales. Today's customers expect a seamless customer experience and want to communicate with brands where they are. Brand owners need to encourage customers and spend more time with their brand in unique ways. Creating strong customer engagement among your audience is just going to benefit your brand by increasing the level of engagement and customer retention in the near future.
The ability to integrate deals, product information, and other data from your store is one of the best features of an eCommerce industry. As retaining customers is a difficult task for the eCommerce industry, they should look at investing more in customer engagement and how they can leverage it to the next level. For instance, if you want real-time customer experience feedback, then you can directly ask survey questions on SMS or WhatsApp, Viber, or RCS.
What is E-Commerce customer engagement?
The concept of customer engagement is not that old, it has evolved recently, in layman's words it is a process of attracting new customers and retaining the existing loyal customers. Customer engagement in the eCommerce industry is to develop an emotional connection between the brand and customer through the deliverance of an exceptional overall buying experience. When a brand delivers an exceptional shopping experience it is the main factor in many successful business models. In order to provide the best customer engagement, it is also necessary that the integration of the right conversational AI solution is required. Route Mobile provides many such solutions to eCommerce industry clients that can facilitate superior customer engagement.

Here are the top four tactics to improve customer engagement in the E-commerce industry
Engage your customers in real-time with live chat:

To build trust-based relations with customers, brands need to show that they listen to them and show they care about what matters to them. The eCommerce companies which are desiring to succeed in the current omnichannel and want to engage with their customers in real-time need to embrace live chat. No customer expects to call the service center and wants to wait for a long period of time, offering live chat via WhatsApp Business Platform, RCS Business Messaging and Viber Business Messages are great to engage them in real-time. Communicating via Conversational AI chatbots allows customers to interact with your brand seamlessly.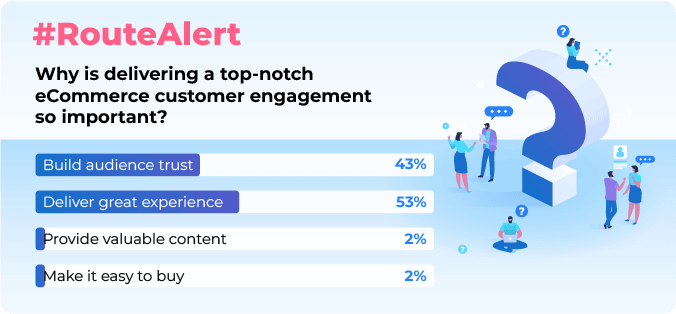 Enhance customer conversations with chatbots:

Ecommerce companies are always consistently looking after how they can ensure enhanced customer engagement and hold it in real-time. Conversational AI Chatbots are gaining significant popularity around the world. Considering that millennials are constantly active on their mobile phones and they also prefer to have business communications over chat. So once the brand gets opt-ins from the customers we can actually send the promotional messages on WhatsApp and Viber. This way you can enable lead nurturing and allow brands to communicate.
Focus on bridging the online-retail gap: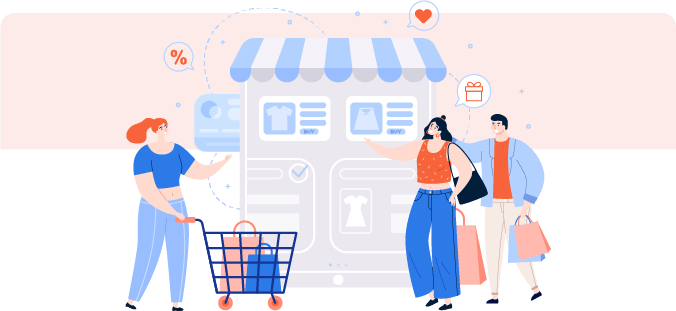 Delivering tailored customer engagement is one of the ways in bridging the online-retail gap and they absolutely feel special when a brand meets their expectations. You can reward your retail customers by telling them that once you scan the QR code which is showcased offline, then you will be sharing some gamified content. If they win the game they will be receiving a certain reward from the brand. In this way, eCommerce brands can cater retail customers to online and even offer an omnichannel experience to your customers.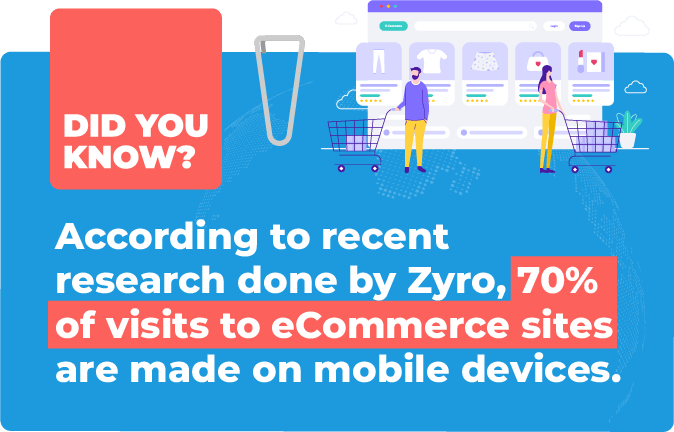 Optimise your checkout:

The checkout process is one of the important parts of any purchase experience. If you put unnecessary steps at the end of your checkout process and this confuses the customer there are chances they might not purchase. To create the perfect checkout experience you can diversify the payment method from website to WhatsApp, SMS, RBM, and Email. Route Mobile's OmniCent is the perfect solution to eliminate all the distractions from the checkout process. When your brand provides a smooth and effective checkout process then we can expect that they will purchase again and finally turn into repeat customers.
You can also read our recent blog on OmniCent – Next Generation Digital Payment Gateway to Enhance CX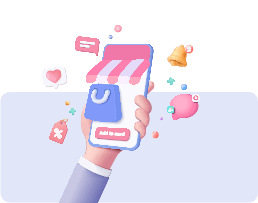 Building eCommerce Consumer Engagement for the Future
In today's multi-faceted digital world, the way brands are interacting is changing and they find numerous ways to engage and interact with their customers. Being available on the customer's preferred channel is one of the ways and surely then Omnichannel communication is the future. An omnichannel presence offers a personalized approach through a smooth customer experience that eventually drives repeat purchases and loyalty.
The popularity and potential of eCommerce have been growing for some time and since the pandemic 2020, it has given a boost to online shopping. The opportunities we see are greater than ever before and it's important for brands to make the shopping experience more convenient. Also, we all know that simplifying the CX and keeping your customer engaged is the only way to keep the store profitable. To create a superior experience and engage with your customers in real-time, Contact our Experts!