WhatsApp is a popular messaging channel and is widely used all over the world. It has around 2 billion active users in more than 180 countries so it's one of the most powerful communication channels. The WhatsApp Chatbots have made it possible to brand your business and seek more customers. WhatsApp Business is an OTT (Over-the-top) chat app that is designed to connect with humans over chat that brings new functionalities and convenience of personal messaging to customer communication.
No matter how big or small your business is, customer engagement is crucial. With the help of WhatsApp, Business brands can connect with their customers instantly without any boundaries and ensure high deliverability and high read rate. When WhatsApp is compared with any other communication channel, it's a trend we see that it has higher reachability and is a fantastic tool for retargeting your customer. Facebook initially started with WhatsApp Business and later it launched WhatsApp Business API to connect with customers seamlessly and to stay connected with brands 24/7. There are some distinct differences between WhatsApp Business App and WhatsApp Business API, here we go-
What is WhatsApp Business App?
WhatsApp Business App is built for small and medium-sized businesses to communicate with their customers on WhatsApp. It's a free download app available on Android and iPhone. To get started with the WhatsApp Business app, you just need to download the app, enter the verified business number, and then fill in all the details which are required. Then your business account is ready within just a few clicks and minutes. WhatsApp Business helps brands to showcase product catalogs, basic automation such as quick replies, greeting, and away messages. When all this is brought together it eventually helps the brand to showcase online brand visibility and increases sales.
WhatsApp Business App facilities to share text messages, voice, and video calls, audio clips, documents up to 100MB, broadcasting the message to a maximum of 256 contacts, and many other features.
What is an API?
The term API stands for "Application Programming Interface", which enables the interaction between software applications, systems, and platforms to talk to each other. For instance, let's imagine when you go to a restaurant and place an order of food, then the waiter conveys the message in the restaurant kitchen and the food has been prepared by the chef. But you are only the finished dish and not the preparation that goes in the backend. Likewise, API lists the bunch of operators that developers can use and make developers life easier.
The recent development of APIs helps businesses in enabling business innovation as well as workflow. APIs empower innovation require less human effort and make it easy to interface with other developers' applications. It's important to choose the right API for your business that will ensure a better user experience, expand your customer base, and increase customer loyalty.

What is the WhatsApp Business API?
The core difference between WhatsApp Business API is that it is been used by medium to large and growing enterprises. It is useful for enterprises that have a higher messaging volume so that they can automate their communication. High customization can be done depending on the brand requirement. The account can be accessed by multiple devices and is easily able to track team performance. WhatsApp Business API offers several benefits that it is built for digital customer communication and lets you connect with customers on the most popular messenger app.
Features of the WhatsApp Business App and the WhatsApp Business API
Here's a list of WhatsApp Business App features:
Business Profile:
When you go into business settings you will be asked to add your company name, address, business description, email id, and business website link. Adding this information gives your brand visibility and you can even add your business working hours and let your users know at what time you are available.
Away Messages:
Once you have defined your operating hours and even if someone sends a message on non-operating hours, an automated predefined message will be shared with them. This ensures your customers that the brand will get back to you soon.
Catalogs:
Catalogs in WhatsApp Business App is a great opportunity for brands to showcase their products and services to their customers. For instance, if your brand has all the grocery products, then you can list all your grocery products which make your user browse quickly and make instant decisions.
Here's a list of WhatsApp Business API features:
Rich Media Communication:
Instead of just sending a simple conversational message, your brand can rich media such as images, documents, audio, video and even share the contact and location information which is helpful for the delivery updates. This all-new rich media makes your communication more interesting and helps to improve the overall customer experience on WhatsApp.
List Messages:
It's another latest feature that WhatsApp Business API has where your brand can create up to 10 options that let your users respond to your messages and act accordingly. For instance, the restaurant company with so many restrictions during the COVID period to avoid in-person contacts can share the take-out menu on WhatsApp with their customers.
Quick Reply:
In WhatsApp Business API you can create up to three session buttons that will let users respond to your message or take any required action. These buttons are customizable into 70+ languages. For instance, if a person wants to take feedback it can use the Quick Reply feature for a quick response.
Whatsapp Business App vs Whatsapp Business API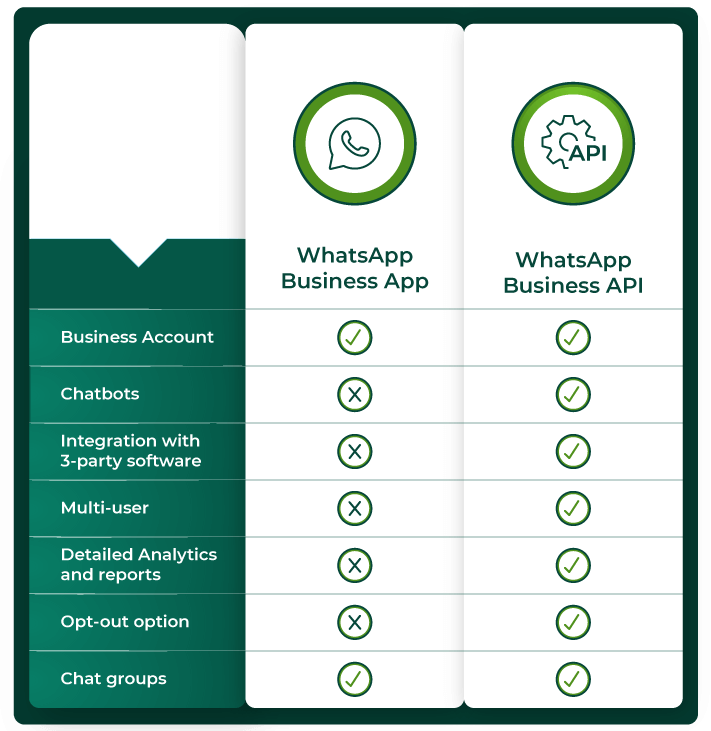 Also Read: How to Collect WhatsApp Business Opt-Ins? WhatsApp Business API
WhatsApp Business App Use Case
WhatsApp Business API is useful for lead generation as one can easily start a conversation with a customer on WhatsApp. It is one of the most interacted platforms among consumers. For instance, if your brand ads are displayed on social media channels, mobile app, or on the website and with the click-to-chat button the customers can be easily redirected on WhatsApp and the conversation begins. Once the consumer initiates the conversation, the brand may ask for the name and their interests, with this they can initiate a personalized conversation and even share customized campaigns. With all these functionalities, your brand gets a chance to reach new potential customers and the enhanced customer experience will enable them to turn into repeat customers.
Whatsapp Business App or Whatsapp Business API: What's right for your brand?
Here's the final question, the brand would need to understand what is right for their brand.
If your business is a local or small business and just starting to acquire customers, you need basic functionalities of WhatsApp Business such as label conversations, quick replies then WhatsApp Business App will be the right choice to make.
On the other hand, if your business is medium to large and you get a lot of queries on a day-to-day basis and you alone are not capable of answering them all, then WhatsApp Business API will be appropriate for your business. It comes with so many features like real-time reports and analytics, a proper CRM integration, and many other features. If your brand is trying to expand its customer support by keeping human agents to solve their queries instantly then WhatsApp Business API is the right choice to make.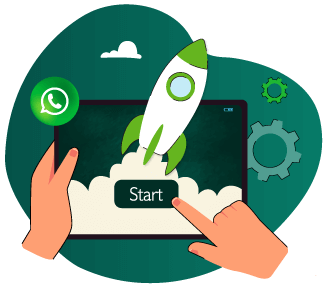 How to get started with Whatsapp Business today
By now you might have got to know the difference between WhatsApp Business and WhatsApp Business API and have analyzed what suits best for your business. And if you are wanting to start with WhatsApp Business API, we are happy to provide you with our expertise and take your business to the next level. Connect with our experts and they will guide you and tell you what's best for your business.
Are you ready to create an immersive conversational experience for your customers on the WhatsApp Business Platform? Talk with our experts now!